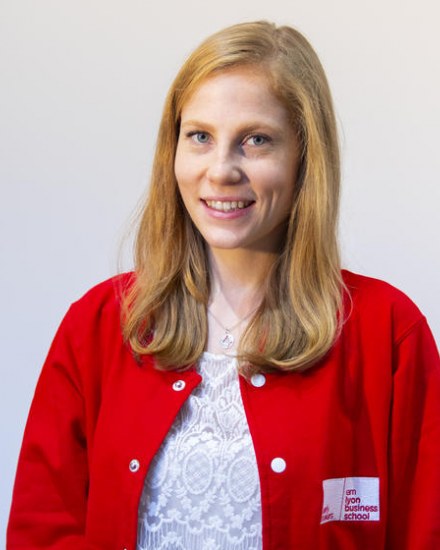 As part of their first semester, students from the MSc in Sports Industry Management completed a very challenging module called "Transforming Early Makers". For 3 months, students disrupted existing business models and imagined new value systems for the sports industry.
Through this entire learning path, they challenged real projects with existing companies using digital technologies. Considered as consultant or contributor, they developed in-depth analysis and expertise and produced recommendations building up to real strategic presentations in front of a jury of experts.
Eva is a current student of the MSc in Sports Industry Management, she gives us some insights, explains what project she worked on and reveals what she will keep from this intense experience.
Could you introduce your team and your project?

As part of the "Transforming Early Makers" (TEM) track, my team and I were asked to develop a disruptive business model for a French start-up selling a fitness machine. The product had been on the market for three years, but sales were stagnating. Our task was to develop a service that would make the product more attractive to customers and ultimately increase sales.

Our group of 6 was an international team from France, Canada, China, Italy and Germany. Having this great international background was an enormous asset as it allowed us to view the project from different perspectives and thus come up with an innovative service.
Could you give me some insights about the process you went through as a team to build that project?

As part of this project, we carried out qualitative interviews in order to analyze the target market, estimated the costs of our proposals and finally presented our solutions to the CEO. Throughout the entire project we were accompanied by a mentor who is the director a sports incubator located in Paris. Having worked in the sports industry for multiple years, he provided us with valuable advice and pushed us into the right direction when we felt a bit lost.
What were the challenges you faced and what did you learn?

One of the main challenges we faced was also one of our major opportunities: our cultural backgrounds. Having different nations represented also meant dealing with different personalities, ways of thinking and manners of working in a team. Luckily, we noticed and learned to work with this early on in our project and were able to take advantage of our international background.
What will you keep from this experience?

The TEM track was a great opportunity to develop skills like time management, teamwork, stress resilience and creativity. It has taught me to work with different personalities and also allowed me to get to know myself better. Working on a real-life in-company project was an enriching experience. It allowed me to obtain first-hand experience and an insight into the processes involved and the challenges a start-up faces.