After their first semester in Paris, all students from the MSc in Luxury Management & Marketing flew to a new destination in order to pursue a specialization.
In London, students are currently following the Fashion Management Track at London College of Fashion. They are learning how to use fashion alongside historical and cultural practice and how to manage and respond to business issues quickly and efficiently without compromising the excellence that is expected in this sector.
In New York, students are following the Design Management Track at Parsons School of Design. They are discovering the history of luxury design, analyzing spaces and products related to theoretical approaches on luxury design, examining sustainable business models and innovation and meeting designers, artists, forward thinkers etc.
Discover how Szu-Ping Chang is experiencing the Fashion Management Track in London while Kelly Kuo is following the Design Management Track in New-York. They discuss their experiences with us.
How is your experience a different learning experience for you?

Szu-Ping: The courses in London are tightly related to fashion. One of the main courses is about the development of fashion in London. The professor leads us to different spots to explore and immerse in the fashion industry history. Other classes are more about business within the British fashion industry. Thanks to the collegiate university system of ual, there are many resources about fashion. The academic atmosphere is really artistic and creative.
Kelly: Being in New York, and at Parsons School of Design, has given me a different view on learning and the luxury industry. Parsons believes in teaching you to teach yourself and to break the traditional boundaries of the luxury industry.
What's your experience like (culture/ schedule, courses, etc.)

Szu-Ping: London is really different from Paris. British people define and wear their own fashion styles. The downtown area is a mix of buildings from different time periods. The school life is quite the same as in Paris though.
Kelly: Classes are more discussion-based and teachers also put more importance on field trips to experience exhibitions related to topics in class. There are many projects that focus on training students to come up with different points of view and create new associations and interpretations. New York is close to Europe but very bustling and the school has endless fun events.
Could you maybe identify a course that you particularly enjoy and tell us more about it?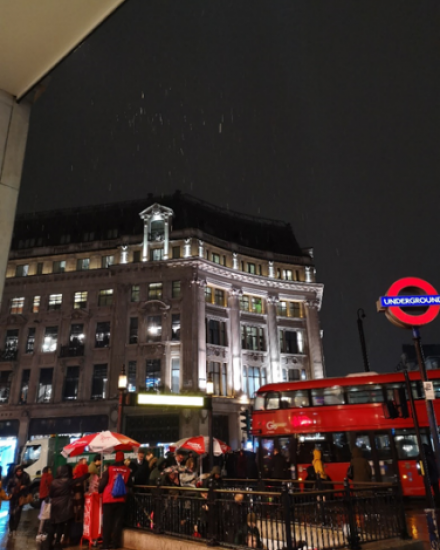 Szu-Ping: London is one of the most famous cities in terms of fashion in the world. Due to its old and precious history, British fashion has developed very early and has a great influence on the industry. There is one course called "London the brand" where we meet outside the school and go visit different places every class. Our professors have chosen some important and memorable spots connected to fashion history. They tell us more about the history of all those typical streets and stores. We have many chances to get deeper insights and explore more about British fashion.
Kelly: I particularly enjoyed the course "Sustainable Business Models" because in each class, the teacher is constantly challenging us to think outside of the box and teaches us concepts that we can use not only at work but anytime in our daily lives to constantly grow. This semester has been a wonderful environment to discover about what I want to do with my future career.
Pictured right: Oxford circus (next to the school)
What did you learn so far and how do you think it will be useful for your future career, etc. ?

Szu-Ping: I think the courses are very useful for people who want to work in fashion in London. All the courses are connected with fashion and British culture. However, it's still interesting for those who are interested in the global fashion world. Both Paris and London are where main fashion players start their businesses. Through all the courses, we know more about how the industry has evolved until now.
Kelly: The whole program, being able to experience three different views and style of teaching really enhances our view of the world as well as international and cultural boundaries. It has changed my own perspective on how I view everything.