Admission into the MSc in Supply Chain & Purchasing Management
Are you eligible?
Students holding one of the following degrees can apply for the MSc in Supply Chain & Purchasing Management:
A validated Master 1 degree or Bachelor's degree equivalent to Bac + 4
A validated Licence 3 degree or Bachelor's degree equivalent to Bac+3, with an excellent profile (limited to 30% of the cohort)
 You can apply whilst studying the last year of the degree which makes you eligible for this supply chain course (Bachelor's Degree minimum).
You are eligible for our supply chain management program, apply!
Create an account or go to your dashboard to start your application file to join this Master in Supply Chain Management.

Applications for the 2024-2025 academic year are open until August 2024 (subject to availability).
Step 1: Your application file
Mandatory documents (all the documents provided need to be in English or French (except passport and identity card):
A resume
A copy of an official valid identity card or passport
A certified copy of your most recent academic degree
A proof of enrolment statement for applicants currently enrolled in higher education
A certified copy of your transcripts from the first year of your undergraduate education until now
Optional documents:
An official management aptitude test score: GMAT, GMAT online, GRE, TAGE MAGE, CAT
An English proficiency test: TOEFL iBT, TOEIC, IELTS, Cambridge
Recommendation letters
We kindly remind you that:
GMAT and GRE tests are valid for 5 years
TAGE MAGE tests are valid for 2 years
CAT tests are valid for 1 year
English tests are valid for 2 years
Step 2: Your digital test
emlyon business school introduced a new tool in the selection process which is in line with today's digital landscape and the practices of major international companies in their search for new talents.
Once your online application file completed, you will be asked to go through some digital tests including cognitive tests and professional role-playing linked with the program you're applying for and the emlyon business school's early maker spirit.
To take these digital tests that you will realize alone, we recommend you to adopt a professional posture and to be in a quiet place. These tests will last about 1 hour and a half. The digital tests will require a computer and a stable wifi connection.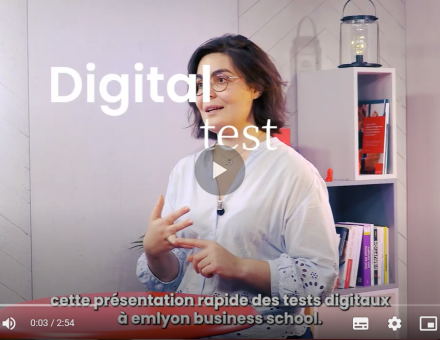 Admissions statistics
The global acceptance rate for Masters of Science and Specialized Programs for the 2022 intake was 52,19% (admitted students on applicants).
Application fee
The application fee for the 2024 intake is set at €120, payable directly by credit card through the online application system.
Students with a French CROUS grant are exempted of the application fee if they provide the final notice of allocation of this grant for the current academic year.
High Level Athletes are also exempted of the application fees if they provide a sport resume validated by the director of the Sports department. If this is your case, please contact Mr Mickaël ROMEZY: romezy@em-lyon.com.
Admission results
The admissions board will review your application and your digital tests. You will receive an email as soon as possible to inform you that your results are available on your makersboard.
Confirm your enrollment.
You will have 10 calendar days after your admission results to complete the enrollment form on your makersboard and pay the non-refundable tuition deposit of €4,500.
You are temporarily or permanently disabled, or with a disabling medical condition?
The Disability Unit can provide customized support in strict compliance with confidentiality, and can:
Take into account your specific needs and make sure that your years at emlyon business school go as smoothly as possible, and that you are integrated to the student life
Provide specific arrangements and resolve your access issues via the implementation of an individualized pedagogical follow-up
Act as the interface with all other school departments
Guide you through your administrative and pedagogical procedures
In case we are unable to provide the specific arrangements you may need, we can follow through with external partners to find solutions to level out your disability
Download the Welcome Guide Disability
Our team is available at the following email address: handicap@em-lyon.com
To find out the key dates, the admission conditions and the contact details of your program advisor, create your account and access your personal space.