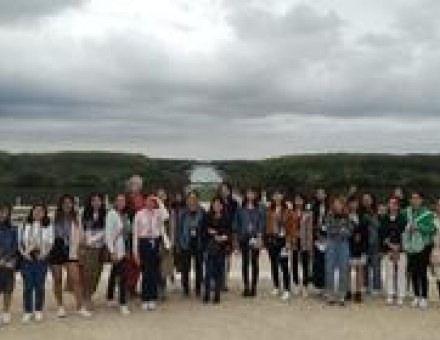 The very diverse cohort (21 nationalities) got a full introduction day with program co-directors Margherita Pagani and Clément Levallois who gave them the busy and exciting schedule of their upcoming year.
On September 6th, students made the most out of their current stay in Paris and enjoyed a nice break as they got to visit the beautiful Château de Versailles with the whole cohort. A last feel of summer vacation before getting back to class.
The program really kicked off on Monday September 10th when the cohort had the pleasure to take part into a round table entitled "Toward a new generation of Marketing Technologists".
Organized by Marc PERENNES (Head of the Career center), Margherita PAGANI and Clément LEVALLOIS (Co-directors of the MSc in Digital marketing & Data Science) and Renaud CHAMPION (Director of Emerging Intelligences), the event welcomed successful professionals such as Charles DE LA HORIE (Innovation Group, Partnership Director AXA), Thibaut Munier (Numberly - 1000 Mercis Group) or Vincent LUCIANI (Artefact) who explained what future challenges lie ahead and how marketing technologists will be key in the resolution of those challenges.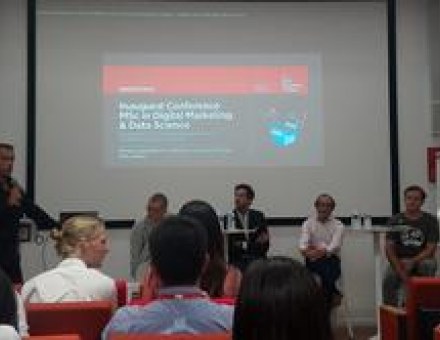 Thibaut MUNIER definitely reassured new students as far as future career opportunities are concerned: "The challenge for companies is not to recruit specialist in Data or Marketing. The industry is full of these profiles. Nowadays the challenge is to find a Marketing Technologist, someone who understands both fields able to add value to the company.
Being a Marketing Technologist is not an easy subject. They will need to cooperate with both machines and people and identify when a company needs to work with one or the other."
The event was also the opportunity for students to start developing their professional network and discuss further more their career plans.
We wish a warm welcome to the new cohort and make sure to stay tuned for more news about the MSc in Digital Marketing & Data Science in the coming weeks!