The rise of social media has totally disrupted the traditional communication of clubs, brands and athletes. The relationship between athletes and the public has been largely transformed: for athletes, social media is an excellent means of engaging in conversations with fans. Social media is also a highly productive market: it allows brands and sponsors to reach thousands or sometimes millions of followers, with reduced costs in comparison to traditional advertising.
How do athletes use this new media? What types of opportunities are emerging in the sport industry?
Attracting a large following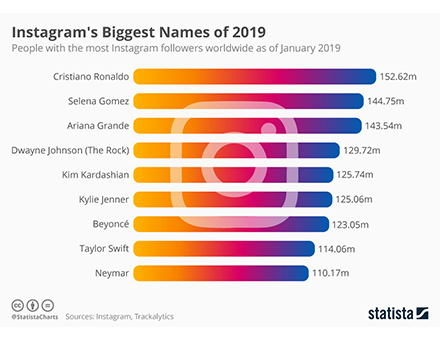 Along with actors and actresses, athletes are among the most followed people on social media. Christiano Ronaldo, Le Bron James and Neymar are some of the most popular athletes on Instagram.
Soccer, basketball NBA players dominate the audience race. Engagement and enthusiasm are indeed very strong in the sport industry, and all sports have opportunities in social media.

However, social media is not the sole playground for publishing contents. Many athletes have blogs, but the practice of writing blogs concerns less popular sports and athletes.

These blogs are sometimes created by the athletes themselves to share their passion. Nonetheless, they are created by brands that use the perspective and experience of athletes to convey the latter's value for the brands. Blogs are a common practice in outdoor and extreme sports such as rock climbing, snowboarding, and skiing, but they are very rare in popular sports.
Sharing onstage – and backstage – contents
Athletes share certain types of contents on social media. Some contents are certainly sport event-related, but they do not constitute the main social media practice of athletes. The "behind the scene" posts frequently represent the majority of published contents on social media, and they are the most viewed and liked posts.
Neymar on Instagram: as other sport stars, many posts share his personal life
To get closer to their fans, athletes willingly post their photos or videos showing them in their personal environment: with their families, while on holiday, or while simply engaging in daily activities. The fans love it when athletes share such posts!
The use of social media sometimes blurs the line between the personal and the professional lives of athletes. Some PR agencies advise to only publish contents that are related to sport activities; the question is, does such move cause a problem?
Publishing personal life-related content does create closeness and empathy between athletes and fans, and athletes prefer to share this form of content simply for that reason.
Sponsored content: a true goldmine for athletes...and brands
For most popular athletes, social media sponsoring can be a huge source of revenue: watches, shoes, sunscreens, and other products that appear in posts are often the result of sponsoring contracts between a sport star and a brand.
Generally, the sponsorship contract defines all the details, including the number of advertising tweets and posts of content.

Sponsored post on tennis player Caroline Wozniacki's Instagram account
For brands, social media sponsoring is a new and profitable way to promote their products.
Blinkfire Analytics measures media value in the sport industry. The company reports that the estimated value of the content published in one month by soccer player Neymar is $34 million. This amount corresponds to what a brand should spend on advertising to achieve the same level of exposure.
Compared to TV or newspapers ads, sponsored posts on social media are much less costly. Sponsored posts also create a more natural and a closer relationship with customers. Even if social media platforms implement tools that identify the sponsored content in the newsfeed, fans do not always notice that such content is advertising.
Why bad buzz can also be good
Social media implies the democratization of public speaking – it allows everyone to reach a large audience with a post, and without the filtering role of so-called "gatekeepers" such as editors and journalists. The risks of misconduct and bad buzz are accordingly increasing. The case of Formula One British racing driver Lewis Hamilton illustrates this point. In 2016, Hamilton made a "selfie video" on his motorcycle and posted it on Snapchat, notwithstanding the country's ban since 2009 regarding any use of mobile phones while driving a vehicle.

Many athletes have consequently entrusted their communication to specialized agencies to avoid similar unfortunate situations. Sometimes agencies handle athletes' social media accounts, but often athletes directly post the contents.

However, the fear of bad buzz is usually greater than the consequences. For example, in January, U.S. college basketball player Zion Williamson sprained his knee after one of his Nike shoes exploded. The images of his horrific injury immediately spread around the world via social media. The day after the incident, Nike's share price dropped by more than 1% on the Wall Street Stock Exchange. A week later, however, Nike's stock recovered and reached a higher value than before.

Social media indeed changes not only the relationship between athletes and fans but also the advertising and sponsoring models in the sport industry. Managers and executives who work in agencies, brands, and clubs therefore need to understand and master these new uses and models.
In response to these evolutions, emlyon business school successfully unites its expertise in international management with the market experience of some of the world's major sports companies, always looking for young talent with a global outlook, in the MSc in Sports Industry Management.