« As part of our semester at London College of Fashion, we got the chance to experience at the fullest the exciting experience of London Fashion Week.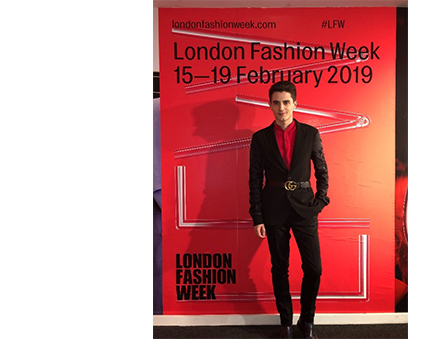 Being one of the most important Fashion Week in the world with Paris, Milan and New York, London is undoubtedly recognized worldwide for its unique sense of creativity.

Thanks to wise advice from the professionals we met in London working in the fashion industry, I got the chance to attend both the official LFW program of the British Fashion Council and also the Fashion Scout program.

This unique experience enabled me to better understand the reality of the fashion industry that can be very different from what we expect at first. It was definitely an amazing feeling to see the diversity of people in attendance during the shows from influencers, special guests to buyers and the effervescence of style and fashion characters.
My most notable memory of this season's LFW will be the last day of the Fashion Week at the Official British Fashion Council Venue. I got invited to the Bethany Williams Fashion Show. Not only did I love the experience because it is an admirable brand for being ethical and sustainable, but also because I attended the ceremony during which the designer was presented with the "Queen Elizabeth II Award for British Design" by His Royal Highness the Duchess of Cornwall on behalf of Her Majesty the Queen. It was one of the highlights of the week.
Finally, the closing show reunited 6 different designers with very different yet very colorful universes. That specific show was recognized as being one of the most exciting of LFW. »