Why was Curtin University chosen as a partner school for this program?
Curtin University offers a lot of opportunity in Luxury branding Specialisation for postgraduate students. This set of skills will contribute to develop the students' fundamental skills in Luxury Branding.
It is covering on one side the basic principles of luxury Brand management, design aesthetics as well as, on the other side, more unique set of courses related to sustainability applied to Luxury branding as well as Luxury digital storytelling as a critical element to demonstrate a luxury brand essence.
The philosophy of Curtin University is based on 5 pillars.
Being innovative, via creative solutions for consumers and business for today and tomorrow
Being Industry connected, with a clear immersive engagement towards the luxury industry.
Being interactive, via a pragmatic approach with application of theory and learning through multiple platforms
Being International, and participating in regional, national, and international communities
Being Inclusive, ie being socially responsible with a genuine commitment to belonging
Curtin has developed World Class Research on Luxury Branding, Customer Engagement among other topics and has been awarded for their research.
Curtin has also a luxury branding research center, which aims to build research excellence and impact society with the vision of achieving global significance and international recognition.
Research focus areas are multiple.
- Beauty and Well Being
- Fashion and lifestyle
- Food
- Biometric research
Curtin has hosted the bi-annual Mystique of Luxury brands conference in China, South Korea,Singapore and Japan.
What is the big advantage students will have by studying there?
All the opportunities to learn the luxury branding strategy offered by Curtin University are giving our students the opportunities to develop their skills in the luxury industry and to understand and feel the different approaches of Luxury brands and consumers behaviour and how to fit their specific expectations, which can vary and be handled in different ways.
They will also be able to understand the Luxury market in Asia and Oceania , and be able to learn the brands strategy implemented in this part of the world ; After an experience on the Paris Campus, and then one semester either in London College of fashion, or In Rome at the Luiss Business School or in New York at the Parsons school of design, this additional semester in Asia gives each student the capability to acquire an additional experience on the luxury market and its influence and power in Asia and Oceania. This is giving a 360° experience for the future professionals of luxury these students will become.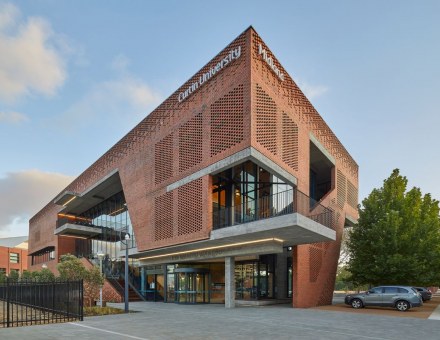 Do you see a future for luxury in Australia?
The luxury industry is powerful all around the globe and is developing every year at double digit,and consumers are now becoming international; When a luxury brand settles in Australia, it is not only speaking and interacting with local consumers, it is also aiming at speaking to all international visitors, either from China, Asia or another country, and making sure the retail experience and the brand strategy are aligned and generating the best consumer experience they would get in any other part of the world.
What types of projects or classes can students expect to participate in there?
The focus is put on Luxury Branding in multiple aspects, the retail experience in Luxury as well as the definition of luxury experience linked to sustainability research and digital marketing applied to luxury.
What would you say to those who are hesitant to study luxury in Australia?
The answers are above! The MSC Luxury Marketing & Management is a great opportunity to become a professional of the luxury industry with a 360° Perspective and understanding .97% of our Students have found a job 6 Months after they get their diploma.