Thanks to various wearable fitness trackers, it's easy to keep track and monitor your own health like never before.
Almost every sector in the world is now using data intelligence. It's a very lucrative market that offers various innovative solutions. The health sector is no exception. The impact that collecting and analyzing data can have on patients' experience is revolutionary.
The impact of data intelligence on the healthcare sector
We spoke with Benjamin Dalmas and Florencio Travieso, the program co-directors of the new MSc in Health Management & Data Intelligence ran by emlyon business school and Mines Saint-Etienne to find out.
The motivation to create the new MSc in Health Management & Data Intelligence is narrowly linked to innovative breakthroughs: "In the last few years, we have witnessed a boom in the development of intelligent technologies. In the healthcare sector, several breakthroughs have been achieved with the help of these technologies," explains Delmas.
He adds: "However, while they provide enormous amounts of help in decision-making processes, they must also be monitored from a human perspective […]. This program answers the need of training active experts with a dual competence who are able to be the link between the high-tech and healthcare domains."
The challenge of hybridity between management and technique
The major challenge
Florencio Travieso pinpoints the major challenge that is the innovation shift in the health ecosystem: "Students will be challenged from a management and a technical point of view. The MSc will provide them with the tools to understand the new challenges of this ever changing industry, as well as acquire powerful skills to be knowledgeable and agile on new technologies such as IoT and AI."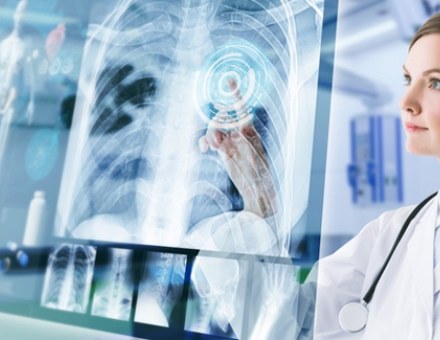 The new MSc in Health Management & Data Intelligence helps to develop the mindset to change this sector through an innovative learning path. Delmas continues saying that "The first part of the program is intended to make them discover the healthcare ecosystem. A major focus will be made on how to implement digital transformation projects. The second part of the program delves into 'data intelligence' technologies, such as AI and big data, as well as nanotech and omics technologies. […] A major focus will also be set all along the program on the ethical, compliance and regulatory aspects of such technologies in order to ensure fairness and transparency in their everyday use."
Job opportunities
A new market research report by MarketsandMarkets predicts that by 2025, data intelligence in the healthcare sector will be worth an estimated $36.1 billion. As these advances become instrumental across the health sector, humans and machines need to be able to collaborate well together and offer solutions that are beyond what was once thought possible.
As Travieso explains: "The aim of this program is for graduates to have a position that acts as a connector between both domains. This also means the program will turn students from diverse backgrounds into broad professionals with technical and management skills."
Digital transformation consultants analyze and interpret important data and information in order to offer advice on how to plan and commission technology-based healthcare provisions.
AI project managers projects are used to help optimize resources and processes used within the health sector to make it more effective and, of course, affordable.
Data intelligence business developers are highly tech-literate with extensive knowledge of digital technologies including data, IoT (internet of things) as well as AI (artificial intelligence).
Interested?