Carla Tur Mel Lo studied and traveled around the world in search of her ideal career path. It wasn't until she started her International MBA that she discovered her passion for sustainability.
Now, after gaining a rich network and skillset at emlyon business school's International MBA (IMBA), she is working in her dream job as a sustainability project manager for companies across Europe.
Find out how Carla harnessed the transferable skills she gained during her studies to embark a global career in sustainability.
Her journey to an MBA
Carla studied her first master's degree in chemistry and started a PhD in biotechnology in her home city of Barcelona. After completing research in Germany, she realized she loved having global touchpoints within work.
"I was fond of an international environment, and exposing myself to other ways of working cultures"*, Carla says.
After leaving her PhD, Carla embraced her love of a global aspect by traveling around the world and experiencing different cultures at first hand: "That was a beautiful and very enriching experience."
After this experience she found a job in sales and business development for an Italian respiratory protection company.
While Carla greatly enjoyed her time there, she realized she was becoming too comfortable.
"I like to try new things and to be challenged. I was happy, but I needed to find something different," she explains.
So, Carla moved to France, which led her to the emlyon International MBA.
She had never considered an MBA previously, but realized it could help her find the right career.
She had offers for MBAs across France but decided on the emlyon International MBA due to its stellar reputation, international focus, and the captivating curriculum.
"I knew that it could add a lot of value in my career, because I'm a researcher, but I didn't have business skills. I thought it was the moment to fulfill that business side," she says.
Leveling up her skill set and discovering the sustainability career path
Carla started her MBA with a vague idea of leveling up her business skills to advance her career. She aimed to take in as much as possible, gathering new topics and learning from people.
"I thought: 'I will take all the information, and I will shape it according to what I want'," she says.
With this in mind, Carla wasn't expecting to find her passion and dream career in her first week at emlyon.
"The first week was mind-blowing. We started talking about sustainability, and I did not know what it was, but I could see it made so much sense for me and aligned with my values."
Carla was concerned that she wouldn't be able to specialize her career in sustainability since she had no experience in the field. However, she realized her MBA would allow her to develop the skill set she needed to launch her new path.
During her International MBA she focused on developing her soft skills. She learned how to effectively deal with differing mindsets and to create a good and positive culture.
"To keep a business running you need people. We learned how to encourage people and how to promote a good environment so people can work the best," she explains.
emlyon collaborated with numerous companies, such as Nestle, which helped her learn about various sustainability initiatives in business and how to progress while protecting the planet.
emlyon's IMBA prioritzes experiential learning, which enhanced Carla's learning and understanding of sustainability and management.
"We had a lot of case studies with different companies and we had to set a strategy to propose something new for their business." "We worked in teams of people from different countries and different backgrounds. We all had our ideas, but you have to compromise, and learn how to work with people," she says.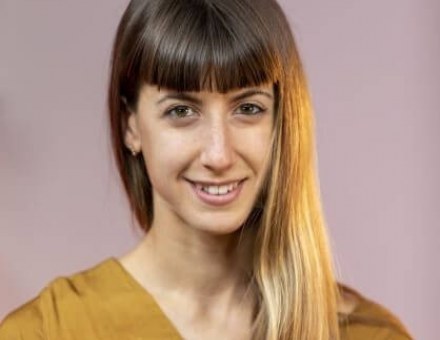 The emlyon IMBA prioritizes this diverse way of working and approaching problems. Its students approach each subject from different cultural and professional viewpoints.
Carla also had the opportunity to go abroad and take courses in Thailand at Sasin School of Management and Milan at Polimi Graduate School of Management, where she gained an even broader perspective on her business education.
"It was good to be with other students and other professors because some subjects to gain a different perspective", she says.
Finding her dream career in sustainability
Carla credits her ability to find her dream job to the valuable network she created, along with hard work and motivation. "I started sending resumes everywhere, connecting with former students. I contacted everyone, everywhere. It feels a bit awkward, but no one is going to knock on your door offering you your dream job. You have to go for it", she says.
Eventually, she received a call from a company in the Netherlands inviting her to apply for a job in sustainability. After several rounds of interviews, including one in the Netherlands, she secured the role.
Carla now works as a sustainability project manager at Emmi Group, a global, high-quality dairy company.
She collaborates with a global team, supervising European countries across all sustainability topics, and leading the greenhouse gas emissions topics for countries outside of Europe.
"I'm trying to connect people and to support the sites to improve their co2 emissions to be more optimized."
Carla says every day she loves her job more and more, and she credits the MBA for leading her to it.
"The MBA opened my eyes and broadened my horizon to new topics—especially the integration of sustainability in business," she says.
This article was written by Business Because on October 6, 2023