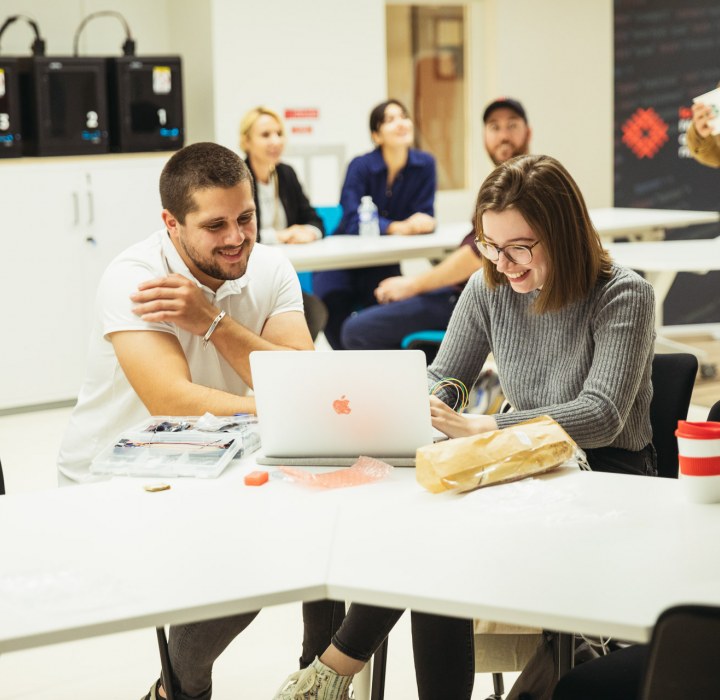 MSc in Digital Marketing & Data Science
Develop your competencies in digital marketing and data analytics, and become the new generation of marketing technologists
For students holding a 4 year Bachelor Degree (possible exemption for 3 year Bachelor Degree)
MSc – Master of Science approved by the Conférence des Grandes Ecoles
18 months including a 4 to 6-month internship (120 ECTS credits)
Delivered in Paris with an international term and a one-week long International Seminar
Register for our 2024 open days on January 20 in Paris and on February 3 in Lyon-Écully!
Register here
18 months to become a marketing technologist
Acquire professional skills in digital marketing, business analytics and data science
The program is divided into 4 main professional skills that you will acquire during the year to master the data and digital work environment. You will learn how to pilot a digital marketing strategy, plan, report and forecast with business analytics and automation, utilize programmatic skills to contribute to marketing challenges and identify new responsible opportunities in a data driven environment.
Become digital and data savvy with innovative technologies expertise
As a marketing technologist, you are going to need a toolbox to help you evolve in a complex work environment. The program is designed to make you understand and use the most innovative technologies: at the end of your degree, you will master Python, SQL, Excel, Power BI and Tableau. You can also dig into Robotic Process automation, R or Dataiku. In addition, you will be able to visualize, analyze and use the data to build and implement a digital strategy for any company.
Meet the real needs of recruiters in an evolving world
Recruiters are facing real challenges to find young talents with skills in both digital and data areas to face the deep digital transformation of their industry. Furthermore, the ethical, social and environmental dimensions are now central in the strategic decisions companies are making. You will be fully aware of them thanks to our program: in each class, those dimensions are covered to prepare you for the future of work.
Boost your career
41,700 alumni in 130 countries

2,200 companies recruiting our students worldwide

2nd in France Employability University Ranking 2022 (Times Higher Education)

100% employment rate within 6 months after the end of the program
The program seen by our makers
Share their experience
I chose this program for the international experience and the skills I'm learning. I heard so many times "tech and decided I want to be part of this!

Yara, student of the MSc in Digital Marketing & Data Science

Read her testimonial

"I have chosen to join this program because it is based on my long-held desire to become an expert in digital marketing and data science and a global actor of tomorrow's world..."

Maeva Aich, current student

Read her testimonial

Ines ben Youssef, a Tunisian student at emlyon business school's Msc in digital Marketing & Data Science program, shares her perspective on the program, online learning and her future aspirations.

Ines, student of the MSc in Digital Marketing & Data Science

Read her testimonial

Mario Guerra, a Spanish students at emlyon business school, talks to us about his online studying experience, the career forum and his future plans.

Mario, student of the MSc in Digital Marketing & Data Science

Read his testimonial

"The MSc in Digital Marketing & Data Science is a unique program combining digital from a marketing and consumer point of view while giving the keys and the basis to the understanding of the data science and its ecosystem..."

Charlotte Geissmann, current student

Read her testimonial

"Offering this new 'Digital Marketing & Data Science' program is an excellent response to companies' growing digital demands. We are already working closely with emlyon business school's teams to develop projects with the students."

Olivier Brourhant, Chief Executive Officer at AMARIS