Do you dream of traveling the world? Immersing yourself in other cultures, foods, languages, and customs? Those driven both by their career and by their love of new experiences are the perfect candidates for emlyon business school's International MBA (IMBA) program !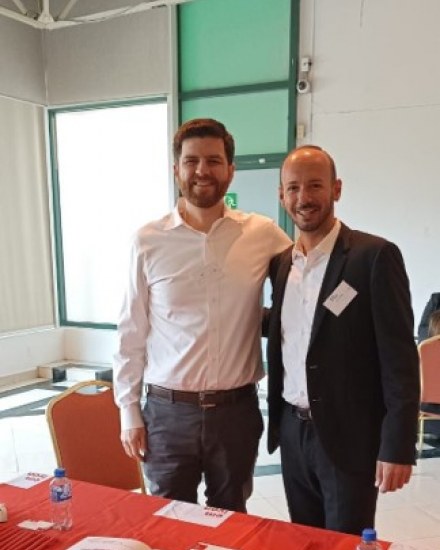 Matteo Pedriglieri, the IMBA Recruitment Manager, is charged with helping interested candidates from their first inquiry, to obtaining their visa, to officially welcoming them on campus in Lyon, France. He describes his role as, "presenting the school and the program to all interested individuals and answering their questions and guiding them through the whole application process." Matteo actively hosts informational webinars, is active on LinkedIn with all things related to the program and its participants, and is doing all of this while also guiding applicants individually through all of the documentation necessary and preparing them for their Admission Interview. "I want to understand their career goals, why they want to earn their MBA and effectively if this is the right program to most adequately fit with their unique profile, needs, and expectations," Matteo says.

This Fall, Matteo is excited to be able to travel once more to multiple global destinations to meet prospective students at various school fairs, "the chance to interact in person is an opportunity that I encourage people not to miss as it adds an element of 'human relationship' that is not possible over video conference calls."

As part of emlyon business school's Confluence 2025 Plan, the institution set its sights to become "one of the leading Global Business Universities in Europe" seeking continued expansion on an international scale, which means seeking out international participants for its programs. "I personally will kick-off my fall tour in LATAM, but I have other colleagues that will be in places like Montreal, London, Paris, Istanbul, Beirut, Dubai, and in Africa and India to recruit for our campuses in those regions." (Keep reading for a list of Matteo's LATAM Fall-tour dates & registration.)

At this point, you may be asking yourself, "So why would someone choose to enroll in the International MBA at emlyon business school?" Matteo is no stranger to this question and was happy to tell us what response he likes to share with candidates, "emlyon is one of the top 20 business school in Europe and its real differentiating factor is the entrepreneurship DNA of the school. This combined with the flexibility of IMBA electives, opportunities to go abroad for exchanges and/or internships, hands-on projects throughout the year, and of course, the city of Lyon, make it stand-out against other MBA programs. The MBA is a life-changing year, and choosing to embark on this journey in Lyon, France, an extremely internationally city, (with almost 30,000 global students each year) access for easy travel around Europe, a lot of events and activities to do, and a rich history and reputation for the best gastronomy in the world, participants open-up the possibility for amazing things to happen both personally and professionally."

emlyon is excited to have welcomed its most recent cohort this September, and Matteo and his fellow faculty members are looking forward to their upcoming salons and the opportunities to help enrich the lives of more young professionals through the International MBA program.

IMBA Fall 2022 Tour Schedule below, or meet personally to chat with Matteo here.