Are you eligible for the Master in Management - Grande Ecole?
The Join a School in France selection procedure is open to candidates holding a degree from a university outside France (Bachelor's degree, Licence, Master…) gained upon successful completion of at least three years of university education outside France; the degree being awarded by a nationally accredited higher education institution.
Candidates may apply the same year in which the degree is obtained.

Application / Procedure Deadlines
Applicants can apply to Join a School in France track by clicking here: joinaschoolinfrance.com
Join a School in France at the Paris-Ile de France Chamber of Commerce and Industry (CCIP) organises the recruitment of students holding a non-French degree for an admission in the Master in Management programs offered by 5 French Management Schools: Audencia Nantes, SKEMA Business School, emlyon business school, ESCP Europe and HEC Paris.
Session 1 : applications open until October 10, 2023 at midnight (Paris Time)
Session 2 : applications open until January 3, 2024 at midnight (Paris Time)
Session 3 : applications open until March 1, 2024 at midnight (Paris Time)
Session 4 : applications open until April 17, 2024 at midnight (Paris Time)
Session 5 : applications open until June 4, 2024 at midnight (Paris Time)
Selection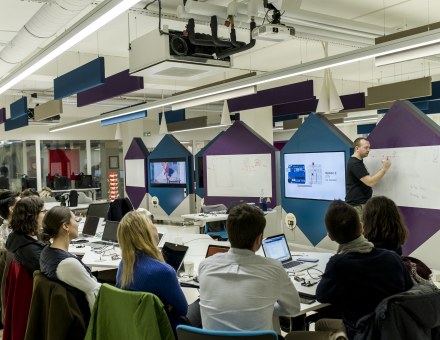 The Admissions Office functions as the first point of contact for all applicants once they have submitted their online application. If you would like to have the contact details of the right person to help you with any questions regarding the Master in Management program or the selection procedure, you can create your personal space and obtain full contact details on your emlyon business school dashboard.
Once enrolled, international students will join the students selected via a French undergraduate diploma and the Bachelor students selected via the French system of "classes préparatoires" and who have already studied one year at emlyon business school. These three selection processes are highly selective, and only an average one applicant out of 7 will have the opportunity to join the Master in Management program.
Click here to access your admissibility or admission results!
Written test
English test is mandatory to apply to the Master in Management programme except for specific cases mentionned previously. Applicants can choose between : TOEIC, or TOEFL, or IELTS.
In French: The TAGE-MAGE, « Test d'Aptitude aux Etudes de Gestion ». This test is conceived by FNEGE (Fondation Nationale pour l'Enseignement de la Gestion des Entreprises).
OR
In English: Graduate Management Admission Test. GMAT is a Graduate Management Admission Council registered trademark and exam.
OR
In English: GRE Test
Interview
Candidates who are declared eligible for the interview are invited to an interview in English. The interview lasts 30 minutes and focuses on the candidate's personality and motivation.
Application fee
Join a School in France : €220
Non-refundable application fee will be deducted from the overall tuition fees.
You are temporarily or permanently disabled, or with a disabling medical condition?
The Disability Unit can provide customized support in strict compliance with confidentiality, and can:
Take into account your specific needs and make sure that your years at emlyon business school go as smoothly as possible, and that you are integrated to the student life
Provide specific arrangements and resolve your access issues via the implementation of an individualized pedagogical follow-up
Act as the interface with all other school departments
Guide you through your administrative and pedagogical procedures.
In case we are unable to provide the specific arrangements you may need, we can follow through with external partners to find solutions to level out your disability.
Our team is available at the following email address: handicap@em-lyon.com
To find out the key dates, the admission conditions and the contact of your program advisor, create your account and access your personal space.