Doing to learn and learning to do
Entrepreneurs, business leaders and experts need to get ready for major disruptions in our world dealing with demographics and urbanization, scientific challenges involving artificial intelligence, biotech or genetics, with new technologies and a knowledge & media boom that require creative solutions. Impacts are everywhere, from our daily life to professional environment, they are changing the way we work and live.
Higher education and management are key to invent and implement new ideas and solutions to face these challenges. You can be a part of it, instead of being frightened by these major shifts. If you seek to understand and accept their importance we can offer you future outlooks and train you to be ready to grasp them.

At emlyon business school, we've developed a long-standing reputation as one of Europe's leading institutions when it comes to research, working closely with the business world and understanding the intricacies of the entrepreneurial process.
Creative Learning by emlyon business school gives you a chance to analyze, test, invent and act through experimentation. Innovation is the future, as historical solutions no longer match with new issues.
As we are a global business school leading you potentially to a great diversity of jobs and activity sectors such as consulting, marketing, finance or business development for instance, the Master in Management - Grande Ecole will educate and prepare you to be ready for operations, expertise and know how for a qualitative employability but also and most importantly a mindset and way of thinking that should transcend your success and blossoming: the early maker way.

From knowledge to skills, talents & innovation

During your two or three years of the Master in Management - Grande Ecole, you will be able to alternate academic semesters at emlyon business school, in-company internships or multi campus experience and time spent on student association activities at your own pace.
With this flexibility to choose and combine courses and experiences that you are most interested in and scheduling them at times that make most sense for you, you will make the most of your experience. For those who have not yet decided in which direction their career will take them, the large choice of courses and the flexible general management program structure helps them determine and test a career path. However, if you already have a clear idea of the path you want to follow, you can focus on the expertise and experiences you will prefer.
Key elements
a Master's degree recognized by the French Government, the higher level available in France and renowned worldwide
a personalized international management program with a large range of possible combinations, more than 200 elective courses and 16 tracks specialized fields
a scalable, tailor-made career support including individual coaching with minimum 12 months of professional experience
an environment fit for digital and knowledge disruptions (library & makers' lab…)
collaborative approaches to develop yourself
double degrees in France and abroad
3 campuses outside France in Bhubaneswar and Mumbai (India), Shanghai (China)
the opportunity to pursue languages (French, English, German, Spanish, Chinese, Arabic, Japanese, Italian, Russian, Portuguese) provided you already have some background
powerful networks with 38, 600 alumni in 130 countries
emlyon business school ranked #2 in France and #38 worldwide among business schools & engineering schools preferred by recruiters, Times Higher Education survey, November 2021
Class profile
54% of men
46 % of women
70 nationalities
This class profile concerns the promotion that joined the Master in Management - Grande Ecole at the September 2020 intake.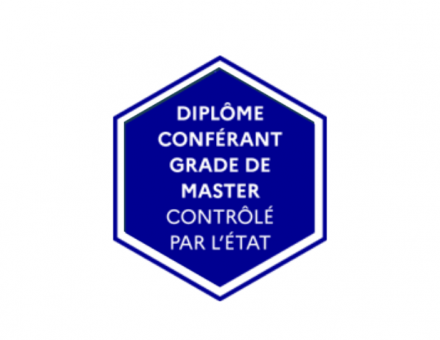 The Master in Mangement - Grande Ecole is a Master's Degree approved by the French State

Graduates of the Master in Management program for the year 2021 expressed a rate of satisfaction ranging from 70 to 85%, depending on the track they took.
Assessment methods may include case studies, presentations, mock exercises, tests, etc.
The graduation rate for the 2021-2022 year was 93.3%.

It is possible to validate this diploma by blocks of competencies