Fundamentals & DNA courses
Signature of the entrepreneurial spirit
Get more than fundamentals
This first year of this International Management program will make sure you master the fundamentals in different disciplines of management. You will have some choices on courses depending on your profile and wishes.
. Examples of fundamental courses
Marketing
Strategic Management
Negotiation and Sales
Project Management
Corporate Social Responsability
Economy
Organizational Behavior and Leadership
Strategy

Highlights of the year will be new topics specifically addressing current challenges: web design and disruptions and minimum two projects you will have to manage in teams.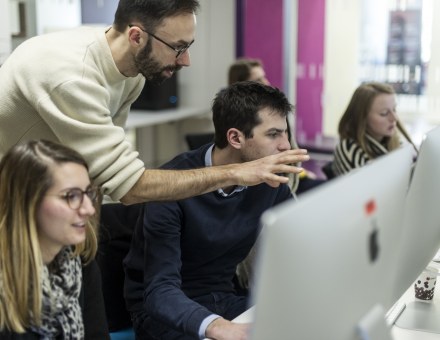 The Applied Research in the Social Sciences (RECAPSS) scheme is an effective bridge with the teaching delivered in the preparatory classes. It aims to introduce you to the demanding world of knowledge production and research. In self-selected groups of five students, you will conduct a field survey based on a topic that you will have already chosen! You will develop your critical thinking, as well as skills inherent in the field-survey methodologies and in communicating your results.

After your core courses and projects, you will be able to choose withhin more than 200 elective courses to build progressively your own specialization.
Business Start-up Project (BSP), central to the School's renown for entrepreneurship
The main purpose of the BSP course is for students to learn about the practical realities of different-sized companies (from very small to large companies, and start-ups), and gain a structured overview of the different organizations. During the course, you will also work on your own personal start-up project as an entrepreneurship awareness-raising exercise. You will be asked to work as a group and pitch your project to a jury. You will also be able to carry out your first experiments with prototyping your idea in the makers' lab, which will offer you its tools (3D printer, production tools, etc.) and the support of a team of experts!
Sustainable futures, exploring the future
This module offers methodologies for exploring alternative futures and creating scenarios that companies can use as representations to conduct a strategic action. You will be introduced to the role of consultant by working for companies (Société Générale, Vinci, etc.) that give you a problem to solve. A real challenge to take up as a team for your first collaboration with a company!
Prototype, immersion in the makers' lab
Today technology plays a major role in the everyday life of both individuals and companies. To prepare you for working in this universe, which connects technology to the business world in a far more systematic and integrated manner, we provide an opportunity to familiarize yourself with its challenges through an innovative learning track. You will learn different languages and methodologies, then use what you have learned to try your hand at producing solutions.
Good to know
You will get French languages if you wish. Other languages open if you already have some background are: German, Spanish, Chinese, Arabic, Japanese, Italian, Russian, Portuguese and you can reinforce also your English level.

Get familiar with your future academic environment
Based on your application and registration, you will have access to many of the digital resources available to emlyon business school campuses students by summertime:
- emlyon business school apps and platforms (Learning Hub, Career Centre)
- information on your integration process (visa, accommodation, administrative procedures, Lyon city council, etc.). This access, via your personal ID, will help you to get to grips with the various tools and ensure that your integration is a success, as you will have a busy schedule once the program begins in September.

Start working on your personal and career plans
Program teams will advise you on your pedagogical choices. Tutors and the careers team will push you to question your assets, wishes and development axis to progress and go further.