Direct International Admission
Are you eligible to the Master in Management - Grande Ecole Program?
International direct applications are open to foreign candidates, and to French candidates with, or soon to have, a foreign degree equivalent to at least a Bachelor's degree. Candidates will need to demonstrate that they have studied a minimum of two years outside of France.
Application session & process
The 1st application session for the 2024 Intake will open on November 21, 2023 and will close on January 2, 2024 at 11:59 p.m. (Paris time).

1st step: draw up your application file.
2nd step: once approved by our Admission Department, you will be able to access admission tests. They are carried out online on a dedicated platform. See further below for more information about these online tests.
3rd step: once you have taken the online admission tests, your admission is submitted to an Admission Jury.
How to apply?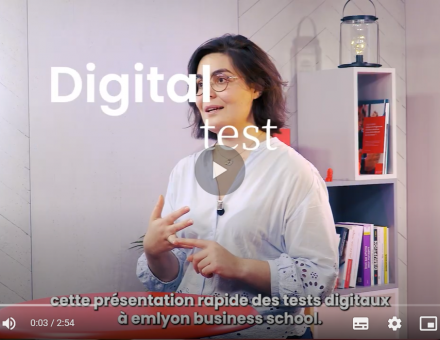 Selection is based on your credentials and the results of the online tests. The program being delivered entirely in English, knowing how to speak French is not essential.
Evaluation of your academic credentials (coefficient 3):
Scores from GMAT, GRE, TAGE MAGE (or CAT for students from India only)
English tests: TOEIC, IELTS, TOEFL iBT. You may be exempted in the following cases: Your native language is English You hold a degree from a program fully taught in English in the past three years (full Bachelor's Degree in English) You have spent three academic years in a program fully taught in English in the past three years.)
Transcript of records of your Bachelor or equivalent
A certified copy of your degree (if already obtained) – otherwise a "progress report"
A resume
A certified copy of your passport or your birth certificate
An online "mock-up situation" allowing to assess the cognitive and behavioral competences (coefficient 1)
The candidate is invited to attend 2 meetings. He/she has a discussion with his/her contacts who are in the form of avatars. They share problems or questions with him/her. The candidate chooses an answer among those proposed to him/her.
A deferred (not live) video interview (coefficient 5)
This is an interview done at a distance. The candidate is filmed and must answer orally the questions seen on the screen. The candidate has 15 seconds to read each question. A limited amount of time is then allotted for each answer. Please note that it is not possible to go back or stop the interview once it has started.
A series of cognitive tests (coefficient 1)
Once your online application file completed, you will be asked to go through some digital tests including cognitive tests and professional role-playing linked with the program you're applying for and the emlyon business school's early maker spirit.
To take these digital tests that you will realize alone, we recommend you to adopt a professional posture and to be in a quiet place. These tests will last about 1 hour and a half. The digital tests will require a computer and a stable wifi connection.
Application fee
Direction International Admission : €140
Non-refundable application fee will be deducted from the overall tuition fees.
You are temporarily or permanently disabled, or with a disabling medical condition?
The Disability Unit can provide customized support in strict compliance with confidentiality, and can:
Take into account your specific needs and make sure that your years at emlyon business school go as smoothly as possible, and that you are integrated to the student life
Provide specific arrangements and resolve your access issues via the implementation of an individualized pedagogical follow-up
Act as the interface with all other school departments
Guide you through your administrative and pedagogical procedures. In case we are unable to provide the specific arrangements you may need, we can follow through with external partners to find solutions to level out your disability.
Our team is available at the following email address: handicap@em-lyon.com
To find out the key dates, the admission conditions and the contact of your program advisor, create your account and access your personal space.