Fundamentals & ADN courses
Become an early maker
Get more than fundamentals
This first year of this International Management program will make sure you master the fundamentals in different disciplines of management. You will have some choices on courses depending on your profile and wishes.
. Examples of fundamental courses
Marketing
Finance
Introduction to business stastistic
Project Management
Corporate Finance
Economy & Law
Organizational Behavior
Strategy   Highlights of the year will be new topics specifically addressing current challenges: web design and disruptions and minimum two projects you will have to manage in teams.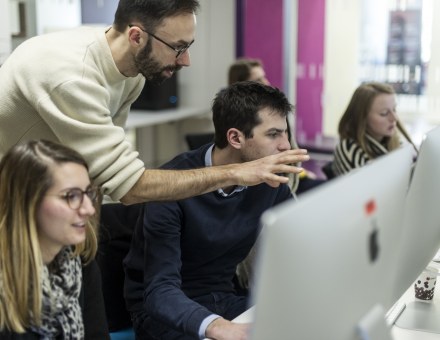 The New Venture Business Project (PCE)
The New Venture Business Project (called PCE) is a training module that is truly unique and gives the school its cutting edge when it comes to entrepreneurship. As well as gaining core skills in management, groups of students also have a chance to work on a virtual project and experiment with business creation. The aim of this educational and experiential exercise is to give students an opportunity to put theoretical learning in practice, and to get first taste of entrepreneurship. The PCE module covers several different disciplines, such as marketing, human resources and finance, giving students an introduction to management – especially those who have had no formal teaching in this field. The module also relies on teamwork, giving participants an all-important opportunity to get to know each other and transition seamlessly into life at school. Students embark on a wide variety of projects, from collaborative restaurants to high-tech start-ups, and cover all sectors, including those with an international flavour (e.g. services for expats in China, custom vegetable gardens for citydwellers, or hotlines for senior citizens). Those who wish to take their projects further can then use one of the various business creation support facilities that the school offers, such as the startup pathway or the business incubator.

RECAPSS
This research project in social sciences (RECAPSS) aims at confronting you firstly to knowledge and content curation. You will work in teams on a subject of your choice validated by your tutor. Professors active in research will supervise your progress.
This project targets topics with complexity to embark juridical, ethics, economics, society dimensions and confront you to investigation, deep thinking and value creation. The early maker approach is visible through the process (analyzing & producing), the collaborative approach and the horizons opened on a critical topic.

After your core courses and projects, you will be able to choose withhin more than 200 elective courses to build progressively your own specialization.
Good to know
You will get French languages if you wish. Other languages open if you already have some background are: German, Spanish, Chinese, Arabic, Japanese, Italian, Russian, Portuguese and you can reinforce also your English level.

Get familiar with your future academic environment
Based on your application and registration, you will have access to many of the digital resources available to emlyon business school campuses students by summertime:
- emlyon business school apps and platforms (Learning Hub, Career Centre)
- information on your integration process (visa, accommodation, administrative procedures, Lyon city council, etc.). This access, via your personal ID, will help you to get to grips with the various tools and ensure that your integration is a success, as you will have a busy schedule once the program begins in September.

Start working on your personal and career plans
Program teams will advise you on your pedagogical choices. Tutors and the careers team will push you to question your assets, wishes and development axis to progress and go further.