MSc in Sports Industry Management alumnus Arinjay Ghosh shares his viewpoint on the crossroads at which the sports industry finds itself, his journey from Calcutta to emlyon, his student experience and his professional rise since graduation thanks to his degree.
How did you reach your current position and what route did you take following your graduation from emlyon?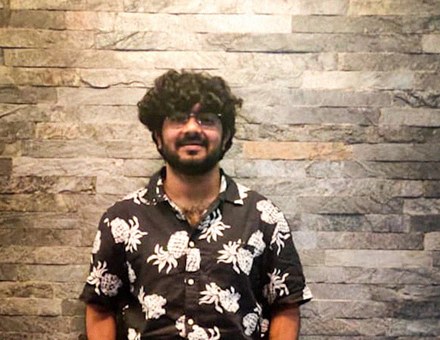 I have been working as the Communications Manager for the Local Organizing Committee of the FIFA U-17 Women's World Cup India 2022 since April, an event that almost fell foul of COVID-19 due to postponements. I am happy to say everything is now back on track and dates are in place for October 11-30 of next year, so it is now full steam ahead to promote a very important landmark not just for top-notch women's football, but also at the grass roots level. My background before my emlyon days was in sports as a journalist, but also in marketing and media operations. Just after graduating, I worked at Real Fantasy Teams in their Marketing and Business Development department, so let's say I've seen sport from a great many angles – behind-the-scenes logistics, the commercial side, and how it generates interest via press exposure.
What motivated you to choose emlyon and this program?
Sport and journalism were innately within me, but I was looking for more. The choice between India and abroad was an easy one, and Europe was a perfect destination due to the variety of countries and cultures you can access and get the best out of. emlyon business school was and is still very well-ranked and stands out amongst business schools in terms of sports-oriented post-grad degrees. Lastly, the course structure ticked all the boxes for me. I needed something with a heavy emphasis on the practice and real-life experience of the sports industry. The in-company project and the field trips to London, Brussels, and Munich proved that I made the right choice as it was through those program features I got a real taste for the industry.
Your program experience appears to have been very positive. Any difficulties or challenges along the way?
I had already been to France as a tourist before in Paris, plus when you come from a country of over 1 billion people you are well prepared! France held no fears for me. I was eager to work with and learn from the best young sporting minds, and this is what emlyon business school delivered, coupled with a lot of creative freedom. We were encouraged every step of the way to come up with disruptive strategies and, in turn, pushed to the limits both mentally and sometimes even physically, notably during our field trip to London. This was a very healthy and positive part of the learning process.
What key takeaways from the MSc do you find yourself using in working life today?
You cannot put any price on the transferable skills acquired from this degree, from activating a strategy and creativity in marketing to community building and values in branding. These are crucial to my current role. The multicultural dimension to the course and cohort has also proven vital, especially when you are working in an international sports environment. I would be with classmates from Peru, El Salvador, Tunisia, Algeria, Germany, India, Jamaica, Jordan… The list goes on and it blows my mind to think about it now. Beyond how impressive the list of countries is, though, was that we all came to the realization of how important it is to embrace differences. We all brought something unique to the table due to our different roots, and the work we did together was all the better for it. All of this in a very practical oriented set-up where emlyon really tested us in situations very close to what we are now experiencing in actual business life.
Since sport has been at the focal point of the gradual resumption of "normal life" since the pandemic, how did your time at emlyon shape your current view of the situation?
My first reaction is one of gratitude, towards my family for supporting my studies and emlyon for the studies themselves. Without them I wouldn't be where I am today. I am a firm believer in not dwelling on past decisions and always driving forwards, which I believe the sports industry has also done to a certain extent. The way it has shed light on the importance of mental health since the beginning of the pandemic has been crucial, albeit a little overdue. There is room for improvement but sport can, on certain issues, be held up as a barometer to other industries. What I have learned most, though, is just how global and inter-connected the sports industry is. Sport cannot operate in isolation and my emlyon business school experience was anything but that!