Studying abroad in France will give you the opportunity to work with people from all over the world, expanding your global network and broadening your professional and personal horizons.
Sorel Signe is a graduate of emlyon's International MBA (IMBA) program, a career-orientated, practical, international programme with opportunities to apply your knowledge in real life situations.
The 11-month program is aimed at individuals with a minimum of three years' professional work experience. Participants can discover the management styles of other European countries and explore their culture.
We spoke to Sorel about his experience in the IMBA at emlyon and how it has helped his career:
Can you give us an overview of your career so far?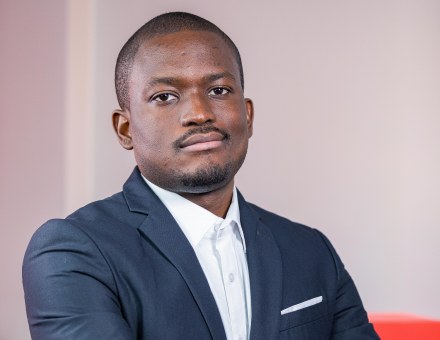 Before starting the International MBA program I was working as a mechanical engineer for more than eight years. I worked in the oil and gas industry for five years in operations, as a project manager, supply chain manager, sales manager and regional sales manager.
Before this, I worked in the construction industry as a project manager, managing the contracts of hospitals and airports and as a consultant in several consulting projects for the improvement of competitiveness of industries.
While studying for my IMBA, I worked on an Entrepreneurial Leadership Project (ELP) with ABB France. Since completing my International MBA program at emlyon, I've been working as a customer success manager in the EV (electric vehicle) charging industry.
What inspired you to pursue an IMBA at emlyon and how did your career change after completing the program?
Before starting my IMBA, I was managing teams and using leadership skills, but I hadn't been formally trained. At some points I felt I was missing the theoretical knowledge. This helped me in my decision to pursue an IMBA.
I chose the IMBA program because it was an international program and I was looking to make connections with people from all over the world. I was looking to gain insight about how business is handled in other regions of the world.
How did emlyon's IMBA help you develop your leadership skills?
The IMBA at emlyon is a challenging program. You have just one year to complete it, whereas some other business schools will give you two years. This makes the program very very fast-paced where you have a lot of activities to complete in a short amount of time.
This intensive environment helps you to gain a lot of skills, including time management, relationship building and the ability to quickly adapt to new situations.
What advice would you give to prospective students considering an IMBA at emlyon?
You'll never be able to fully prepare yourself as there will always be surprises.
I come from an engineering background and what shocked me about the IMBA is there is no 'one solution fits all'. You'll find solutions that work for your context and for your company.
My advice is to just be yourself, know your strengths and weaknesses, and find areas where you want to improve. The IMBA will do the rest.
How have you leveraged the networking opportunities that your IMBA programme provided to further your career goals?
A large draw of this International MBA program is the networking opportunities you'll have. In my cohort, there were 20 people of 10 nationalities. The network you build will be very broad. There will be people from different backgrounds with different experiences.
There were opportunities to do exchanges with other MBA programs, and you'll also have the opportunities to do exchanges with other universities.
There is also an alumni platform at emlyon of more than 15,000 IMBA alumni across the world. The school invites alumni to speak to students about their careers so far, what they've achieved and how they've reached their current positions.
While studying for my IMBA, I was thinking about different career paths. The fact that I was able to network with these alumni gave me insight into what it's like to work in those industries and in those specific roles.
How did the programme equip you with the skills necessary to navigate the challenges of a rapidly changing international business environment?
As I mentioned before, the IMBA is a very challenging program. You're challenged not only by the teachers but also by your classmates.
At the end of the program you'll be able to easily jump from one subject to another. For example, you might have a class about supply chain, then an hour later you'll have a class about digital transformation and you'll need to be able to deliver a good result on both.
It helps you to be really agile and innovative. Business today is challenged by many disruptions: wars, pandemics, digital transformations, etc. The IMBA helps you build the skills to be able to change the world and help navigate this business environment.
How have you applied the concepts and theories you have learned in your IMBA programme to real-world business situations?
The IMBA is not a theoretical program. It's not about formula and calculation. It's practical from beginning to end.
One of the tenants of the degree is having the ability to launch your own entrepreneurial project.
You'll create your own startup: all the marketing materials, the websites, etc. You'll be designing everything that you need for your invented business. I think this is one of the best parts of the program. At the end of the program you can even choose to continue working on your start-up and launch it as a for-profit business targeting real customers.
Alternatively, you can take part in the entrepreneurial research project where you'll be presented with a real business case study currently challenging a business and you'll have to act as a consultant to provide a solution. During your project you'll have the support of the school's resources.
In this research project, you'll be in direct touch with the business world. You can apply all the skills you've learned during the program to deliver real-world solutions. The company I was working with on my project was so satisfied by the work that I delivered with my classmates last year that they have asked to have the next cohort of IMBA students work on another case study for them!
Looking back on your IMBA experience, what were some of the most memorable and rewarding moments?
As part of the program we visited several companies around the world.
For example, while in Germany we visited several businesses and it was great to see how sustainability is changing the business mindset in Germany and how they're launching new sustainable businesses there.
Our program is mainly about driving positive changes in the world, so to see that this is already happening gives you energy and shows you that it's possible to make the world a better place to live.