The second webinar of the MSc in International Hospitality Management's sustainability series kicked off with some exciting special guests speaking about their recent book publication, "Critical Questions in Sustainability and Hospitality".
Dr. Willy Legrand, Professor at International University of Applied Sciences was joined by our very own Dr. Henri Kuokkanen, Associate Professor and Vice Dean of Postgraduate programs at Institut Lyfe (formerly Institut Paul Bocuse) as co-authors of this exciting book that takes on important, industry sustainability topics and provides readers with, "the possibility to debate around a series of pressing questions relevant to the future of the industry," says Willy.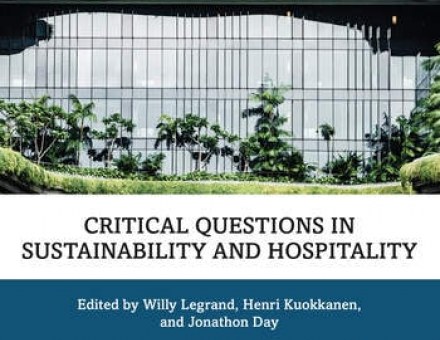 The inspiration from this book came from the authors' participation in q community panel of 100 experts and their findings in sustainable business practices, particularly in the sector of hospitality. "There is a lack of similar publications currently present in the market," says Henri. "There is an increased attention to hazards linked to climate change and loss in biodiversity as a result of the tourism industry's operations and within the hotel industry in particular… we ultimately were motivated to create this book as a type of 'guide for hoteliers' as well as a discussion tool for academics as this is extremely relevant and needed."
After the authors went through the lengthy process of ironing out the big questions that they wished for their book to address, they divided up the chapters by assigning them to be authored by the most relevant subject matter expert to ensure the highest degree of diligence.
Celine Vadam, also present in this webinar, was one of these key contributors to chapters like, "From Wellness to Wellbeing: What is the path to stakeholder wellbeing?" and "Return on Sustainability Investments: Is sustainability paying off?" As Founder & CEO of WE(i) Think and Retrouv'I, and Co-Founder of the Hospitality of the Future Think Tank, Celine offers specialist knowledge, insight and guidance into these large, highly complex topics.
Tune-in to this exciting webinar to learn a bit more about the subject matter discussed in the book, as well as the inspiration and aspirations of its co-authors, and purchase the book for your own reading pleasure online at Amazon, Routledge, or other online retailers.
If you feel inspired by the hospitality industry and the topics covered in this webinar and book, you can also look into the MSc in International Hospitality Management program co-delivered by industry experts at emlyon business school and Institut Lyfe to get the chance to directly learn from Willy and Henri!