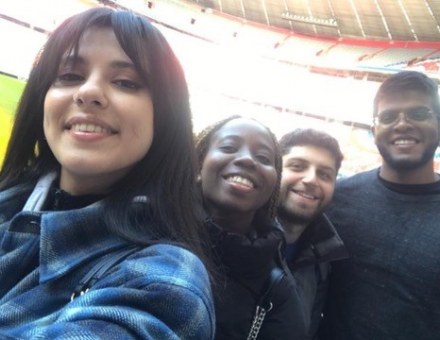 My name is Maria Alexandra De la Torre. I was born in Chicago (Illinois, USA) but lived most of my life in Lima, Perú. I completed a Marketing Bachelor's degree (Class of 2014 Valedictorian). I have eight years of experience in commercial-marketing areas, lately focused in the sports retail industry. I enrolled in the MSc in Sports Industry Management because I realized I'm very passionate about working for outdoors and sport inspired brands. To have the chance to pause my working life to get a strong and complete update about what's coming next in this industry seemed like the perfect deal and so I went for it!
As a current active student, it's still hard to decide which could be the most meaningful moment of the whole program… since it's still not over.
Nevertheless, I know that one experience that will always remain in the top chart of my favorite moments is the field trip to Munich, Germany that took place in our 2nd academic semester.
I think the excitement comes as a result of everything: being in the middle of the academics of the program, traveling side to side with our now true friends (that feel like family, since the majority of us have been away from home for at least 5 of 6 months and only have each other on a daily basis) and attending one of biggest, if not the biggest, trade fair of the outdoors & sports industry.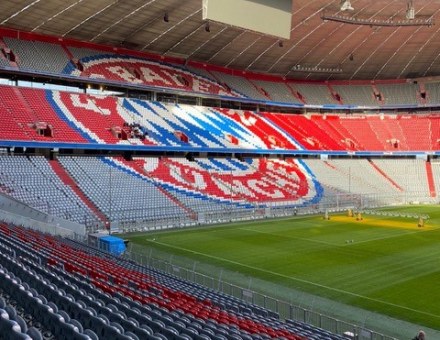 The trip has a total duration of 4 days but if you do it right, I think it feels like so much more. I mean there is so much going on for this trip: ISPO visits for 2 or 3 days (depending on your own time management), visit to the Bayern Munich Stadium (to motivate those never-missing football fans) and a visit to the HQ offices of one of the biggest companies in the sports goods industry worldwide: Adidas
Maybe it's the fact that I come from so far (Lima-Perú), maybe it's the fact that it's been a while since I knew that I'd love the outdoors world in so many ways and this trip took me to the perfect playground for an outdoors lover. Maybe it was the combination of that plus the feeling of being ready to make the most of it after the preparation work, we had to do prior to this journey.
Being among so much innovation and passion; seeing your favorite brands leading environmental issue panels, trying to figure out how to give back to mother nature … was just as inspiring as it gets. Being a witness of a shift in the traditional ways of "doing business" and seeing this change starting in an industry you just feel so attached to, is just a priceless gift of pure motivation.
It doesn't actually matter what exactly made me sure I would never forget this experience because in the end whatever did it for me, will be probably be different for you. What I can assure you is: this is one milestone of this exciting journey you will never forget. No matter how many delicious German cold beers you have on your last night :P
Once the Master is over, I'll be looking for a job in a company with true spirit that seeks to be a positive actor in the world, using sports as a tool to generate engagement towards big positive things for the earth.
Maria Alexandra Victoria De la Torre Berninzon
MSc in Sports Industry Management 2019-2020