Artificial intelligence (AI) is probably the next industrial revolution. According to the 2019 predictions for PwC's AI, this technology could bring more than $15 trillion to the global economy by 2030. In the short term, the greatest economic growth potential related to artificial intelligence lies in increasing productivity by automating processes, especially at work. Indeed, this development allows companies to remove workers from low value-added tasks so that they can focus on those that create the most value.
However, these same productivity opportunities also concern customers and users: With chatbots, personal assistants, and recommendations, AI promises time savings for users, but how are companies using AI to improve the user experience?
Beyond time-saving objectives, does AI generate a better user experience?
When bots can talk with humans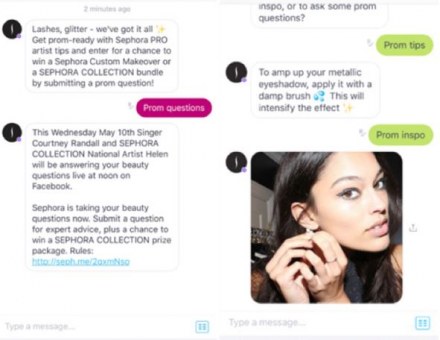 With the startup Kik, the cosmetics and beauty brand Sephora has developed a bot that delivers customers beauty and makeup advices. In this way, Sephora has developed a custom experience for teens within their bot on Kik, filled with prom-specific content, including makeup tips, style inspiration, and custom video content.

This approach also permits Sephora to offer an interactive and personalized experience that is recognized as one of the most successful in this market. Sephora also succeeds at getting teens excited about prom—and Sephora—a real challenge!
Another noteworthy example is Domino's Pizza, which has developed a skill (a kind of application for personal assistants) on Alexa to allow customers to choose and order pizzas with their voices on their smart speakers or smartphones. Personal assistants are helpful for users in some specific contexts: when hands are busy (driving, cooking, etc.), or when the user thinks it will be easier and faster to say an instruction and listen to the result than to enter it on a keyboard and read the results on a screen.
The opportunities to improve the user experience with voice interfaces are endless and promising, but at present, AI can only process easy tasks.
Powerful recommendations
Recommendations powered with AI also improve the user experience. Netflix, HBO, Hulu, and Amazon are thriving thanks to AI. Whenever a user searches for, watches, or orders a product or movie, the AI ​​behind the scene records and learns their habits to provide tailored recommendations to enhance and personalize their experience.

Netflix recommendations allow customers to discover new films and TV shows
In this context, AI effectively replaces humans but with more information. The bookseller asks the customer, "What kind of book do you like?" However, as opposed to human employees, AI already has data on the client's habits.
Human machine association: the winning duet
If the benefits of AI are significant, will robots replace humans? The answer is, of course not, because AI systems cannot handle complex tasks and demands from users.
In this way, humans will be able to release tasks with low added value and focus exclusively on complex tasks.
This AI model is interesting because it results in faster service for customers, and professionals will no longer have to waste time on tedious tasks, permitting them to focus on more complex, and therefore more interesting, issues.
For users, this AI revolution means that the user journey begins with AI but transitions to a human interaction if necessary. In this way, the switch threshold should be clearly defined and well thought out to make the user's experience smooth and convenient.
For companies, these new ways to improve the user experience with AI require marketing specialists with the ability to combine digital marketing, data science, and machine-learning skills.
The MSc in Digital Marketing & Data Science run by emlyon business school provides the strategic skills to successfully guide companies' strategies in a digital world that is overflowing with data on customers, products and interactions. The MSc in Digital Marketing & Data Science also focuses on data analytics which includes business, coding, database access, data science and machine learning with Python. The program is designed to make you understand the most innovative technologies and acquire the skills to manage the upcoming technological disruptions in marketing.