The Msc in Digital Marketing and Data Science invites you to a cycle of conferences and debates throughout the year to learn about careers in digital marketing, business analytics and data science.
Discover the best experts on these subjects who will explain to you the opportunities and most recent evolutions in these professional roles. Each time, several speakers will present their career path, current work and points of view, followed by discussions. Many partners of the program will be present to share and exchange with you!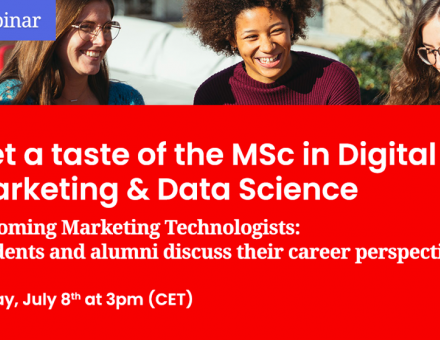 Becoming Marketing Technologists: students and alumni discuss their career perspectives
Friday, July 8th at 3pm (CET with :
Nadia Vlieger (Alumni)
Clément Levallois (Program Director)
Marie Coffin (Program Advisor)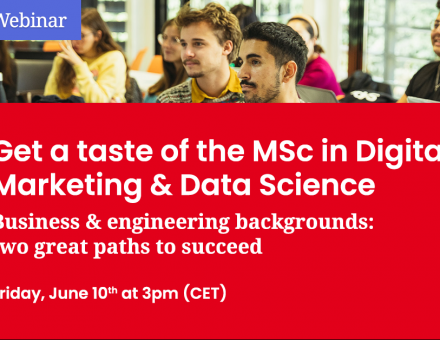 Business & engineering backgrounds: two great paths to succeed
Friday, June 10th at 3pm (CET) with :
RaviShankar Siddula (Alumni)
Zeynep Bilgihan (Alumni)
Clément Levallois (Program Director)
Morgaine Nielsen (Program Advisor)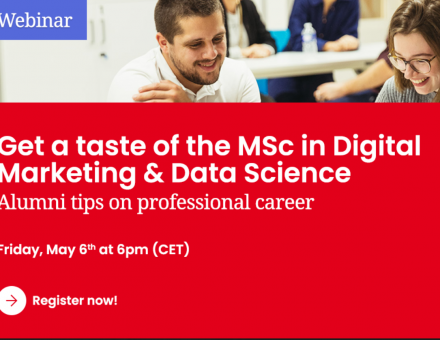 Alumni tips on professional career !
Friday, May 6th at 6pm (CET with :
Jad Ejrohn (Alumni)
Alice Triquet (Alumni)
Clément Levallois (Program Director)
Marie Coffin (Program Advisor)