MSc in Sports Industry Management alumnus Alexandre Schönberg entered emlyon business school in 2021 with one firm intention, backed by an ambition that some might have considered unattainable – to pursue a career in the sports industry and, in the dream scenario, within motor racing. Two years on from the start of the MSc, he finds himself fronting the start-up iNZDR for its founder Sami Raisanen, manager of none other than Formula 1 legend Mika Häkkinen.
"The industry is potentially open to everyone, but if you don't have an innate love for sport, the experience won't be quite the same", begins Alexandre from the iNZDR office he occupied for his six-month internship and where he has since been working on a six-month, full-time contract basis as a Business Analyst and Consultant. "The sports industry was definitely for me, but I wasn't guaranteed to land such an opportunity in my dream field. My time at emlyon had a major say in where I find myself today." Following undergraduate studies specializing in Economics and Business Management, the MSc in Sport Industry Management offered the perfect track for a graduate student looking to take the next step up from a more classic business education background into a more specific area combining a personal passion with a specific career goal.
A steep learning curve
Both through his internship period and now as an employee of the company, Alexandre has had to learn fast and shoulder responsibility. Working for such a Formula 1 figure as Hakkinen requires flexibility and autonomy – "I've been tasked with creating communications plans, performing market analyses, negotiating with drivers, and conducting an overview of the company's offer and strategy. As you can imagine, in his role as McLaren global ambassador CEO and Formula 1 global ambassador, Mika is on the move constantly, so I have to adapt to where he is on business and frequently work remotely with Sami and him. It's a steep learning curve but a very rewarding one."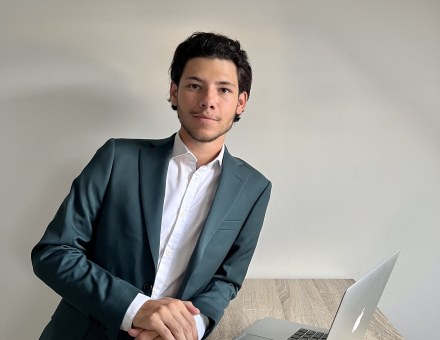 Making the right connections
Alexandre reports directly to Sami Raisanen, CEO of iNZDR, with whom Alexandre established initial contact thanks to his then Geopolitical Economics teacher at emlyon, Professor Simon Chadwick. An introductory Zoom call with Raisanen that Alexandre describes as "just as high-pressure an environment as the job itself" convinced the CEO of his worth, pending the creation of new opportunities within the firm. Shortly after, the internship was set up for a mission spanning September 2022 to February 2023. This initial role covered such areas as data business analysis, Formula 1 partnerships, and in-depth studies into digital laws and regulations. On the back of this first successful mission, the internship then morphed into a six-month contract starting in April of this year, with a particular emphasis on Hakkinen's Formula 1 health ambassadorship project, among other initiatives.
An Earlymaker with a dream
When looking back at his emlyon days, Alexandre is convinced the school's Earlymaker ethos and approach helped shape the path he has taken in recent months: "my current job requires a lot of autonomy, organization, and self-motivation, all skills honed by my Master's studies. The school provided me with the impetus to study to the next level in order to realize my professional dream. Taking this choice of MSc and career path represents quite an investment and I was determined to make it all worthwhile." Highlights of the program for Alexandre included the travel possibilities during the study period, summer schools focusing on sports management in Montréal and Laval, the expert insight provided by visiting lecturers during the courses, and a case study that came about due to an inevitable COVID-cancelled event due to take place in Munich. "The pandemic hit every program but emlyon came up trumps by setting up a case study with the organizers of the Chicago Marathon. We worked with the COO of the firm in charge in order to devise the project for the next edition of the race. It was the perfect introduction to project management within a sporting context."
Up to the challenge
Since arriving as an intern and now as an employee, Alexandre has had a few surprises along the way that have tested the skills acquired during his MSc in SIM days: "it's safe to say I'm not seen as the office junior. The projects have been complex and of direct importance to iNDZR from day one. When I'm not involved in partnership prospection I'm dealing directly with sportsmen and women on negotiations, so you have to be able to think on your feet and switch from one project to another. I knew by opting for a school with the reputation for excellence that emlyon has that I'd be giving myself every chance to succeed. Now it's up to me to prove I'm up to the challenge."