Following the September 2021 launch of the latest addition to emlyon business school's impressive MSc portfolio, members of the first MSc in Cybersecurity & Defense Management cohort share their motives for joining the program, their impressions since beginning their studies, and their thoughts on a world where cyber-attacks are seemingly here to stay. Students John Galand and Sarah Kobaïter paint a picture of a stimulating learning environment providing clearer insight into the murky world of virtual threats.
What brought you to emlyon and the MSc in Cybersecurity & Defense Management program?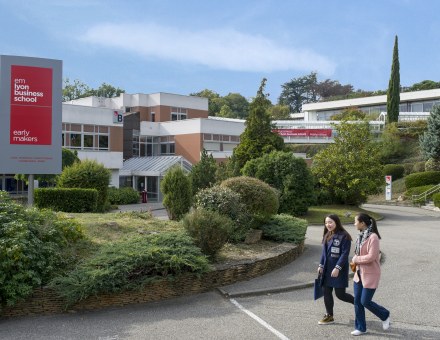 John: "After my Bachelor's studies in Politics & International Relations at the University of Bath, I was seeking to return to France while also continuing the international experience I had enjoyed during my undergraduate days in the UK. emlyon ticked all the boxes. What's more, the school is representative of the French higher education landscape where the name of the institution carries weight. In emlyon's case, it more than backs up its richly deserved brand image of excellence and diversity".

Sarah: "I had been working in telecommunications for the previous 5 years, following studies in Sciences, Engineering, and IT, so it's safe to say my background was technical. For me, emlyon and this choice of MSc were part of a conscious move towards acquiring more managerial knowledge, as well as feeding a keen interest in cybersecurity. On paper the program looked multi-dimensional, which has definitely proven to be the case, given the technical, legal, and managerial scope it offers".
Did you join the program having prior knowledge of the cybersecurity industry?
John: "My studies before arriving in Lyon were more political in focus, with an emphasis on Geopolitics. However, for some time I had been conducting research precisely into the link between Geopolitics and the cyber area that I am now studying. Information control and warfare have always fascinated me, so this choice of program will enable me to connect my educational background with the current state of play in the defense industry".

Sarah: "On a technical level, yes, in the sense that telecommunications is becoming integrally linked to the kinds of challenges and threats faced by all things computerized. In addition, I had already studied for some cybersecurity certifications and had insight into Intelligence and Big Data, so this program represents the next step in terms of knowledge acquisition before heading into the industry full-time in the future".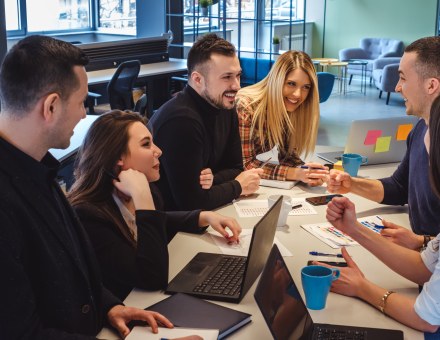 What interest does this area hold for you, as a student and in your future career?
John: "Cyber threats are sadly not going away, whether we're talking about an individual having their phone or laptop hacked, cyber interference in presidential election campaigns, or the kind of virtual warfare we've heard being reported during the current Ukraine-Russia conflict. Whether I will go into cybersecurity and defense management I cannot yet say, as options in the military and consulting also tempt me. What is for certain is that everything I learn from this program will represent a vital tool in my future career, regardless of sector".

Sarah: "No one can deny that cybersecurity is a booming industry and an increasingly necessary one. My plan is to continue gaining knowledge managerial and legal in nature, including areas such as compliance, and building on my technical know-how over the next 10 or so years through more certifications to then hopefully launch myself fully into the industry".
What would you say are the main advantages of this program?
John: "Once I had got up to speed regarding my technical knowledge, I especially enjoyed studying areas such as crisis management and risk analysis. The learning conditions have been hugely enhanced by the way we students all feed off one another. We come from a wide range of geographical and educational backgrounds, making learning even more stimulating".

Sarah: "The cultural diversity is by far a huge advantage. There are just 16 of us for this first cohort, but we are six nationalities, and this blend of cultures and different experiences is a real strength of the program and the kind of teamwork it engenders. Hopefully I will experience this same diversity later in my working life".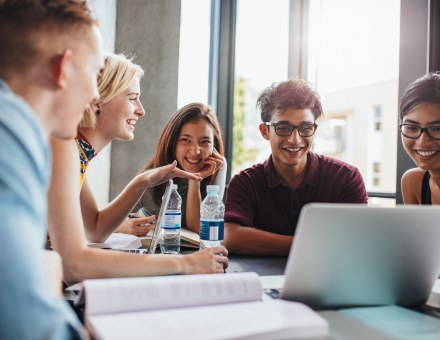 What aspects of your emlyon student life would you recommend to prospective students?
John: "Lyon itself is a great city to live and study in – a manageable size, a vibrant student community and an increasingly diverse population, plus the school more than lives up to its impressive rankings and reputation. I remember the Admissions Director being very clear about the program objectives when I was in touch with the school during the application and admissions process which. The school more than kept its promise of being open to people from diverse backgrounds".

Sarah: "At emlyon we are lucky to benefit from the expertise of some top-notch professors and visiting lecturers from the working world and, in the case of the MSc in Cybersecurity & Defense Management, I found that they had an especially close and almost personal way of working with us, in the best possible sense. This, coupled with the blend of cultures, nationalities and profiles, makes for a really rich learning experience. The school and program have well and truly delivered so far!".