As their last semester in Shanghai has come to an end and all MSc in Luxury Management & Marketing students have now started their final internships, let's take the time to reflect on the highlight of this semester: the In-Company project. This project focuses on different luxury-related topics including supporting the development of the market strategy of companies in Asia, building qualitative market research on Chinese consumers, helping companies with their strategic plans for expansion, and other research-based projects.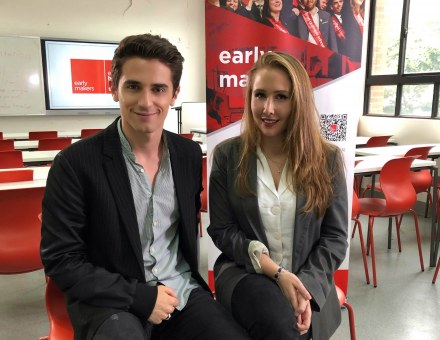 ClubMed, Flamingo, Dior, Louis Vuitton or even Ralph Lauren have been just a few of the many international companies students of the program have had the opportunity to work with in the past few years.
This year, we asked Benjamyn and Clara, both embassadors of the program to reflect on their own In-Company project supervised by Kenzo. The topic they worked on with the famous luxury fashion house was confidential but their experience was not. Find out what they will keep from this one of a kind adventure.
You have spent your entire semester in Shanghai working on your In-Company Project (ICP), what have you learned from your company supervisor, academic tutor and team members?

Taking over the challenging ICP has been full of learnings throughout the entire semester.

First of all, interacting every week with Kenzo's management enabled us to have a real business experience. We especially improved both our oral and written professional communications. Not only did we work together to strive for excellence in every deliverable we were producing but we also pushed ourselves to get the best out of our work and exceed Kenzo's expectations. Finally, working with such a renowned company has also taught us to be very meticulous and pay close attention to details.

From our academic tutor, we had the chance to get the support we needed to efficiently organize our team work. Being constant, thinking ahead of schedule and methodologically plan our tasks for the entire semester in order to reach the final goals of our mission were the main lessons.

Last but not least, the members of our team were the heart of the success of such an intense project. We all had different backgrounds and different strengths which enabled each of us to efficiently contribute to our weekly deliverables. The confrontation of our different perspectives to tackle the issues at stake helped us produce a more complete final assessment.
What is the value of the ICP?

The value of our ICP, besides the pride of working for the prestigious LVMH brand, rests on a deep study of the Chinese luxury market, which is today one of the most important markets in the world for this specific industry.

We got to learn more about the significant differences between Chinese and European luxury consumers in terms of expectations, mindsets, and shopping habits. We also have been able to study the differences between Western and Chinese luxury retails, mainly through field visits in various luxury stores and in the most impressive luxury malls of Shanghai.

Finally, working closely with Kenzo was a true challenge. The fact that our company supervisor was expecting a high-quality consulting work and a very disruptive approach, was a valuable experience. We were confronted to real-work expectations beyond our initial academic work.
Can you talk about your intercultural experience?

Our team was composed of 6 international students. All in all, we were coming from different parts of the world: France, China, Taiwan, Thailand and Germany.

When we think about it, it is such a unique opportunity and enriching experience to work in an intercultural context like this: we get to learn from everyone, we have different approaches and visions which altogether enables us to be better. It can be challenging at times to make sure that we are all going in the same direction but it helps to improve our communication skills.
How can the ICP help you in your career?

The ICP was for all of us, our first professional experience with a luxury brand, which is key in order to begin our careers in that industry. Through this ICP, we have been able to better measure the requirements regarding the quantity and quality of the deliverables expected in a luxury industry. We were also given a topic that is definitely at the core of the luxury brands strategy today.

So, it was both a challenging but a key research project for our future career in luxury marketing.