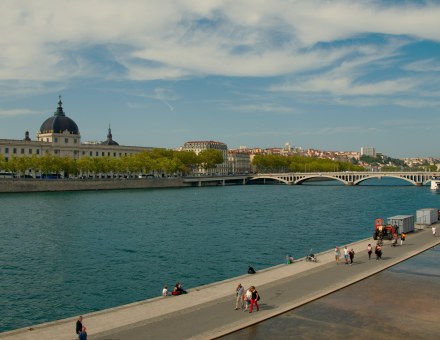 Cultural Activities
Since the Renaissance, the banks of the two rivers, the Rhône and the Saône, that flow through the city, the Fourvière basilica that dominates the city centre, and the Old Lyon, are sights that make Lyon an extremely pleasant place to live in.
Therefore, coming to Lyon – France also means discovering its cultural heritage, participating in exciting and original activities and enjoying the French cuisine!
To allow each student to fully enjoy their stay with us in Lyon, they will receive a 4-day Lyon City Card.
This special pass gives you free access to more than 38 activities including 23 museums and their temporary exhibitions, guided visits, mini-cruises… for 4 consecutive days.
Each student will have the opportunity to choose as many activities as they want, according to their own interests.
For more information and details about the activities: https://en.lyoncitycard.com/
Corporate Visits
We are convinced that companies and school must work hand in hand to face major economic and societal disruptions and together provide new answers to the world's challenges.
Thanks to our large network of corporate partners, company visits are also planned.
These visits, designed to provide participants with a first hand look at "real world" business contexts in France are fully integrated into the Summer School' program.
Accommodation
Use our dedicated housing platform housing.em-lyon.com. With our partner Studapart, access hundreds of exclusive offers: studios, flatshares, homestays… and benefit from personalized support throughout your rent!
From applying to booking, take all your steps online on the platform. To get started, click on "Tenant space" and sign up using your school's login credentials or your personal email address.
Book accommodation online to benefit from the Studapart Guarantee and support from a team of multilingual experts available 6/7d. 
You don't have a guarantor living in France? Studapart can replace your guarantor over the whole duration of your stay. 
A guarantor is a person bringing financial security and attesting you are creditworthy. It's difficult to rent a place in France without a French guarantor. In most cases, student residences and landlords require that your guarantor earns income in France.
You can get the Studapart Guarantee directly on the platform and add it to your rental application to find accommodation on the Studapart platform or anywhere else!
A question ? Send them an email at booking@studapart.com!
Studying abroad is a memory that lasts a lifetime.

 

At emlyon, I was able to do more than further my business education. By collaborating with students from across the globe – America, Hong Kong, Canada, Morocco, Italy, Guatemala, Russia – I learned to see the world differently. I made new friends that I still keep in touch with today. And I was able to experience so much of the beauty, history and cultural value of the city of Lyon. It was truly unforgettable!

 

Annie / Rollins College / 2019 Summer School