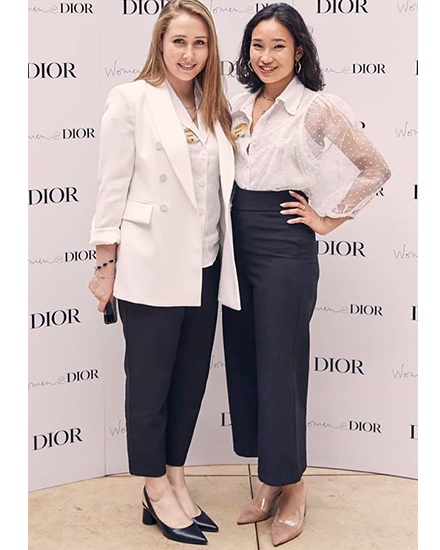 "I am a fashion enthusiast and Christian Dior is one of my favorite luxury brands." Liqi started.
"Thanks to the partnership between emlyon business school and Christian Dior, my first experience with the brand began during the Digital Challenge organized by Dior Parfum last year in Paris. Then I seized the opportunity to visit the Maison Dior famously located 30 avenue Montaigne in Paris during Les Journées Particulières organized by LVMH and I was totally impressed by the delicate craftsmanship and timeless beauty behind the brand." She added.
"With my professional skills and knowledge developed through the MSc in Luxury Management & Marketing, I was nominated by Professor Michel Phan (Director of the program) to join the Women @ Dior China community. I created a presentation to share my point of view about women in power along with a related personal story and passed the first part of the selection process. I was then invited to a group interview during the launch event of Women @ Dior in Shanghai." Liqi explained.
"It is a very inspiring program and also a great pleasure for me to meet so many talented women with this level of generosity and kindness. Women @ Dior will help me to discover who I am and build up confidence for my future career and life in terms of daring to change and striving for what I really want."
Liqi is also grateful for the opportunity the MSc in Luxury Management & Marketing gave her as the program played a great role in her being able to join the Women @Dior experience: "This program provides the best opportunities and environment for us to gain the know-how and first-hand information we need about the luxury industry as well as to acquire the necessary qualities required by the companies."
emlyon business school is of course very proud of Liqi and wishes her the best during this wonderful adventure.