The ELP, which is a six-month external consulting project, is one of the most enriching experiences of our International MBA at emlyon business school. Last November, we were presented with consulting projects from a vast range of outstanding international companies. From these projects, we were required to select one project that evoked our interest based on our career objectives, professional experience and background. The goal and focus of the ELP is to practically apply knowledge gained during the MBA to tackle real challenges companies are facing today.

Our team selected to partner with ADP France, the French branch of an American listed company specialising in providing human resources management software and services to businesses across the globe. We had the opportunity to work closely with Yann Baudot and Ali Kazan to tackle the challenge of improving the proactivity in the delivery of customer experience across ADP's clients in France. With a strong focus on addressing the root cause to achieve our goal, we set on a journey to gather key valuable information internally from employees and externally from clients. Invaluable insights and innovative ideas were gained through applying the Design Thinking framework (Empathize, Define, Ideate, Prototype and Test), which we had learnt earlier on in our MBA studies with Rémi Edart.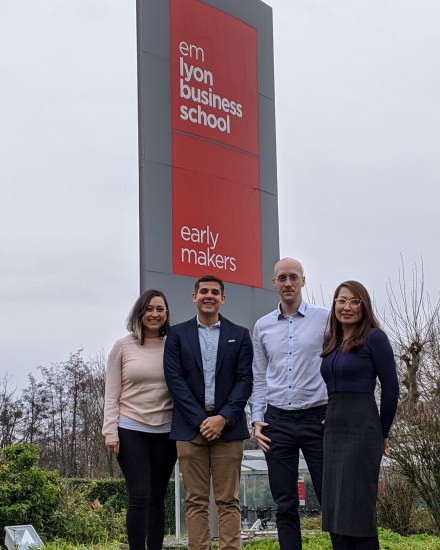 As the world held its breath to face the threat of a pandemic, our plans drastically changed. Corporations had no choice but to swiftly shift their usual practices to engage in virtual interaction. We learnt to adapt to the challenges that COVID-19 had carved out for us and pivoted from our initial plans of face-to-face interactions with ADP consultants and clients to online interviews

During this time, we learnt to proactively adapt to a situation that none of us were ever prepared to take on. Although we are now out of our month and half long confinement, it has been a challenging learning curve for all of us that I am sure we will never forget. Our time spent with ADP France on this project has been an inspirational experience, it has widened our knowledge and polished the tools that we will need in our future careers.

In a blink of an eye, the emlyon and ADP project partnership will come to an end for us in July. Grateful for the fantastic support we have received from our team, emlyon business school and ADP France, we would like to thank both ADP France and emlyon business school for giving us this opportunity. This is definitely an experience we will all look upon as a milestone in our professional lives.