Careers services track
As a student of the MSc in Digital Marketing & Data Science, you will benefit from a dedicated career track which includes workshops, expert panels, fairs, events, company visits etc...
The Careers Services Department provides continual support in identifying career goals and developing action plans. Program-specific careers services include:
Workshops: Careers workshops help you prepare for your internship search and future career. Self-assessment tools and individual coaching provide you with the opportunity to prepare your next move.
Tools: Our wide range of career tools help you find out more information on partner companies and sector specific resources, including databases with internship and job offers.
Events: Over 200 companies visit emlyon business school campuses each year and provide students with continuous access to the business community.
Each year we recruit several students from emlyon business school. They fit with our identity and our technical needs.

Guillaume Floquet, Chief People Officer at 1000 mercis group
Graduate employment results
Naturally, no statistics are available related to recent graduates as the program is new. But you can refer to emlyon business school employability averages for our other Master's programs. Taking experience and historical data into account, you could reasonably expect:
Employment rates of 90% within 6 months
A minimum average salary of €40/45k based on graduate salaries over the last few years for our MSc in programs
Geographic location : worldwide, with generally 70 % in France for the first job upon graduation, mostly in Paris
Get to know how to choose the job you want
Upon completing the MSc in Digital Marketing & Data Science, you will become accomplished digital marketing professionals, able to manage and innovate in a data‐rich business environment. You will be well‐prepared to work in a sales or marketing department of startups or major brands in business to consumer or business to business environments.
You will also fit the requirements of:
advertising agencies looking for marketing professionals knowledgeable about multichannel communication
consulting firms managing the digital transformation of their clients
digital media and technology companies looking for managers with a strong business background who are also familiar with their trade.
The skills developed with the program open large horizons as all companies are now challenged by data and digital disruptions. You will be prepared for specific positions in marketing and business updated to the digital era such as:
Digital marketing manager
Head of digital solutions
Digital project manager
Data analyst
Business intelligence analyst
Digital analyst
Consultant or project manager in digital transformation
Social media manager
Online media planner
We are very interested in integrating new competencies related to data processing and management.

Guy Bravais, HR Expertise Department, Volvo Group France
Among emlyon business school recruiters:

Examples of companies that are already collaborating in digital marketing & data courses and recruiting students, in addition with other global firms: Criteo, 1000Mercis, Converteo, Amazon, IBM, Google, TF1, Facebook, Orange, CapGemini, GE, Saint-Gobain, Hilti, AXA, Microsoft…
Forever alumni network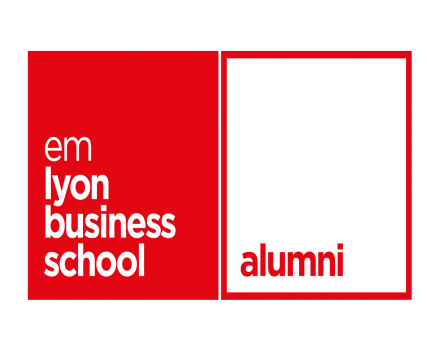 As a future graduate, you will hold lifelong membership of emlyon business school forever alumni network, a network of near to 33,000 alumni covering more than 130 countries.
You will benefit from all services it offers, including the online assessment modules. Its members will help you further develop your career regardless of which stage you are at, by providing you with career development information, exchange business information with you and share their experience for you to build on.
To learn more about the employment statistics, create your account and access your personal space.