Students in the MSc in Luxury Management & Marketing at emlyon business school explain all there is to know about the program, including international exchanges, key skills, and career prospects.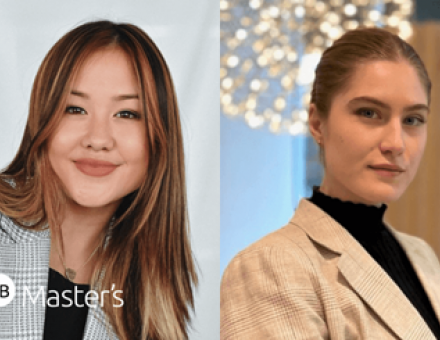 Among France's prestigious ranks of Grande Ecole, you'll find emlyon business school, an innovative institution housing a broad range of specialized Masters degrees. as well as Executive and Doctoral programs.

emlyon caters to students who hold a variety of interests, with programs covering subjects from data science to sports management. There's also a well-regarded Master of Science in Luxury Management & Marketing (LMM), one of the few specialized luxury degrees in France.

The luxury MSc at emlyon offers the chance to work with some of the country's leading brands—Chanel, Cartier, and Christian Dior, to name a few—and provides a platform to launch an international luxury career.

To find out what it's like to study in the program, BusinessBecause spoke with emlyon business school students Lucrezia de Sanctis and Megan Hicks about their experiences.
Why the MSc in Luxury at emlyon business school?
Texas-native Megan graduated with a business and marketing bachelor's from Texas A&M University before moving to California, where she worked for a year with multinational tech firm Oracle. A passionate traveler, after a year with Oracle she decided to pursue an international experience and further her education with a degree abroad. When browsing for programs, emlyon seemed the perfect fit: "I wanted to gain an international scope of luxury, and the program provided me the opportunity to live in multiple luxury capitals" she says.

The MSc is delivered over 18-months, with core courses taught on the school's Paris campus alongside a range of optional locations spanning New York, London, or Rome. The international emphasis made emlyon an easy choice, says Megan.

"I had been looking to move overseas for a while, and the university provided me with that chance."

For Lucrezia, an economics and management grad from Italy, it was the chance to study in a program that was entirely focused on luxury that made emlyon appealing. She'd spent a year interning within the industry after her undergrad degree, and wanted a program dedicated to luxury, rather than just a management degree offering a luxury track or electives. "I wanted a degree that would help me specialize in this particular discipline, and not just management" she explains. "Repetition of my bachelor's was a big no for me. I knew I wanted to be in luxury."
emlyon business school MSc in Luxury | Course highlights
More than halfway through the MSc in Luxury Management & Marketing, both Lucrezia and Megan feel the program has broadened their understanding of the industry as well as their cultural perspective.

The curriculum has a broad focus, with modules covering anything from the history of haute couture to the fundamentals of economics, to branding in the luxury industry. Many classes are taught via a mixture of group projects and individual coursework, which enhances the experience, Lucrezia feels. "You do a lot of independent work so you have to develop serious hard skills but there's also the soft skills, so this was really good," she says.

Megan felt the emphasis on group work helped to broaden her cultural understanding: "I learned a lot about working on a plethora of teams, and how to work with a variety of people from many different cultures."

For international students enrolled in the program, studying in France also helps with cultural awareness as you're exposed to the nuances of the country's luxury industry. "I'm Italian and in Paris there is a different approach to luxury so I think this is very educational," Lucrezia explains.

Both students were able to further develop their cultural understanding during an international exchange in London, where they attended the University of the Arts London (UAL) to learn about strategies in luxury fashion and marketing. The exchange was the highlight of the program, Megan says. "I have always loved London, and to have the opportunity to study fashion for a semester in partnership with this school was a dream."

For Lucrezia, studying at UAL offered the chance to dive deeper into the cultural nuances of luxury around the world. "In London it was business based but at the same time there was a lot taught about cultural impact and how it affects a business," she explains. "This was different from what I experienced in France or Italy."
emlyon MSc in Luxury | Career prospects
The current luxury MSc in Luxury Management & Marketing cohort is scheduled to graduate in December 2022. The bulk of the second half of the program is where students get the chance to gain professional experience during in-company consulting projects and internships.

Lucrezia is currently undertaking an in-company group project with luxury supercar manufacturer, Alpine. The experience has helped develop her understanding of the industry and inspired her to pursue a career in luxury marketing, with a particular focus on innovation. Continuing her cultural journey, she plans to leave France after graduating the program and is considering embarking on a new path in either the UK or Germany. Her interest in the supercar sector also means she could potentially return to Italy, which is a leader in the industry.

As Megan approaches the end of her degree, she is looking forward to an internship with the global retail merchandising team at Spanish luxury house, Balenciaga. The internship will take place in Paris and is scheduled to begin in July. She hopes the experience will propel her career in the fashion sector.

"I came to emlyon knowing I wanted to work in the luxury fashion industry," she explains. "The job hunt was very challenging, as luxury is an extremely competitive industry."

Despite the challenge, 89% of students in emlyon's MSc in Luxury Management & Marketing land jobs within three months of completing the program, confirming it as a strong platform to help students launch their luxury careers.

This article was written by Matt Kefford for Business Because: www.businessbecause.com