Peter Taylor swapped the US for an MBA in Europe as he was craving the international exposure that would accelerate his career
Peter Taylor spent close to seven years working in the US after college, accumulating experience in consulting for Capgemini and operations for McMaster-Carr. But his career wasn't giving him the international exposure he was after—which is why he swapped the US for an MBA in Europe.

He wanted to add an international dimension to his career and skillset. Fluent in the French language and familiar with the culture—having spent seven of his childhood years in France—it made sense to focus his MBA search there.

emlyon business school prevailed, and in 2018 he enrolled on the school's 12-month, full-time International MBA.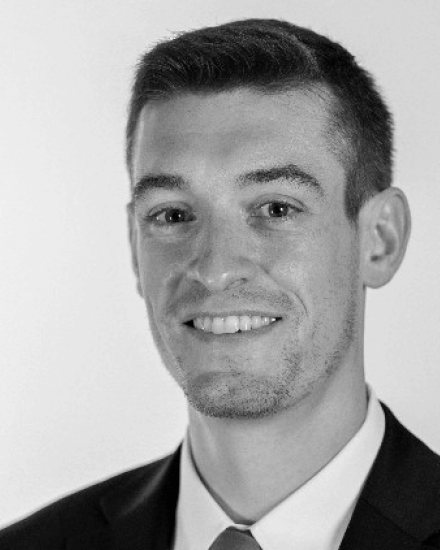 emlyon business school: An education in multicultural management
Peter's experience in consulting and operations had exposed him to complex problem solving, people management, and the intricacies built into each stage of business operations. The emlyon business school MBA was the bridge between that skillset and multicultural management.

"My experience on the MBA really opened my eyes," he admits. "In my first project group on the MBA, one of us was a detective from Shanghai, there was a lawyer from Brazil, two engineers from India, and then me. I knew how to work within diverse cohorts, but this was on a whole other scale. I loved it."

The current class of 2020 consists of 64 students and 32 nationalities. Students hail from countries like Angola, Brazil, China, Portugal, Saudi Arabia, and Australia. The average age of students is 29.

Sharing a classroom with such a diverse cohort of experienced professionals greatly developed Peter's teamwork skills. To successfully complete projects groups must identify each individual's strengths and weaknesses, and use that information to work together towards a shared goal.

The MBA classroom also places professionals in an environment where they have to develop their ability to maneuver cultural and personality differences.

"I used to think my career had hit a glass ceiling, and that the MBA was more of a basic requirement in order to progress," Peter (pictured) explains.

"But it was a great refresh button for me. It gave me the chance to relearn everything in a classroom setting, and to build a new network from a cohort of extremely talented individuals."

Building an MBA career in France
Peter chose to remain in France after graduating from the emlyon International MBA. He believes France is the best place to obtain international experience right now.

The MBA also built his network and gave him plenty of opportunities to interact with French companies through planned company visits and networking events organized by the school. Peter even worked for the French management consulting subsidiary of the Canadian IT services firm, CGI, as a consulting manager during the MBA's six-month Entrepreneurial Leadership Project with a group of students.

"I was hosting clients for the CGI global center of excellence for supply chain management based in Lyon," he says. "There, I was exposed to the most innovative use cases and technologies in the marketplace. That's where I met the team at o9 Solutions, a US software firm that had just secured unicorn status."

Upon graduating Peter joined o9 Solutions, a US software company, where he leads pre-sales cycles in brand manufacturing and retail across Europe. It's his first time working in a sales-specific role, and he's calling on his previous work experience in consulting to sell artificial intelligence enabled planning platform to global companies.

The platform improves the collaborative planning processes of teams across sales, finance, and supply chain to make data driven decisions. This is something which is in especially high demand, considering the current uncertainties in today's business environment.

Through o9 Solutions, Peter has worked with clients like Nestlé, Pirelli, Nike, and Walmart. "I've been inside these companies on a consultant basis, so I know how they work," he explains". This really helps in the selling process when demonstrating our software and pitching to them.

"In my role, I need to understand business models, complex technology, and each client's particular challenges: How do I communicate a clear business case for each prospect? How can I simplify the benefits our products can bring to their business specifically?"

The value of an MBA
Ultimately, the MBA helped Peter elevate his existing skillset while expanding his intercultural management ability and giving him a helicopter view of business.

In his pre-MBA roles he was focused on one skillset over the other; the MBA blended all of his skillsets together and allowed him to improve in all areas, he says. And although he admits personal development is harder the more senior you are, an MBA gives you the knowledge and credentials to drive your career forward.

"You may be expected to log bigger results, your responsibilities may be more extensive, and you may spend more time managing other people than evaluating yourself, but an MBA can be key to unlocking your full potential."